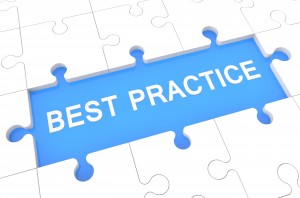 Do you feel your HR team is on track for the rest of 2015 and beyond? Here are 10 ways to ensure your HR team is functioning at its highest possible levels:
Build relationships. In order to have a high-performing HR team, you'll need to have strong relationships with other business leaders. And you'll want to include them in your governance model and business cases for every major initiative.
Develop a formal governance model and business case development process. Your HR team can greatly improve its effectiveness if it focuses on its process for making decisions, not only on the decisions themselves. And your governance model should define how business priorities are set, how decisions are made and how communications flow throughout your HR organization.
Remember that HR gives potential employees their first impression. Your team should strive not only to be super-efficient and organized with new hires, but also to make a positive impression. It's important to have an employee-centric onboarding process.
Screen for culture fit. Your company has a unique culture. Your HR team should define it, build it, and promote it. And when hiring, they should screen job candidates for cultural fit. Believe it or not, the org chart is going the way of the dinosaur. Great HR departments hire by looking at the fit between the values of the candidate and the company, not so much at if the candidate can be slotted into a specific starting position
Understand motivation. Money and other financial rewards aren't always the biggest motivators for every employee. HR should take the time to think about, and encourage input on, the types of benefits and rewards your particular employees will appreciate. A younger workforce will have different values and ideas on this topic than your older employees.
Be tech-savvy—and tech-comfy. Streamline your HR department's workflow by implementing technology to improve communication and accessibility—options like HR management system software, payroll processing outsourcing, and electronic applicant tracking. And of course, there's mobile. Smartphones are essential equipment for almost all employees and candidates. Stay current so you'll be ready for the next technology improvement.
Create a talent community. The days of setting up a careers page on your company website and passively waiting are over. Make that page interactive by adding talent community plugins, or set up a Facebook page aimed at prospective employees. Use a Twitter account to guide them to your site or Facebook page when an opportunity becomes available. And interact with interested individuals at times when hiring isn't a current priority.
Keep an eye out for great employees…at other companies and yours. If you only hire from incoming applications, you're only hiring from a pool of people who are looking for a job. And for some positions, that's fine. But to fill your most important roles, you want to look for great talent, either internally or externally. If you think you've found a great employee who works for another company, it's time to reach out and sell your opportunity.
Make it personal. Employees work harder for owners who are involved and dedicated to quality. Be sure you know who everyone is and what they do. And be transparent. Generation Y especially looks for a transparent business culture.
Remember to share. Role sharing, office sharing, equipment sharing. Not everybody needs to be in the office 100% of the time. Encourage telecommuting and flexible schedules. And if you have a terrific employee who needs a little more work-life balance, find an equally terrific employee to share the job's functions or hours.
Complete Payroll Processing's personalized benefits programs, tech-savvy HR offerings and of course our payroll processing can help you reach many of these goals. Call us any time to start implementing the solutions that work for you.