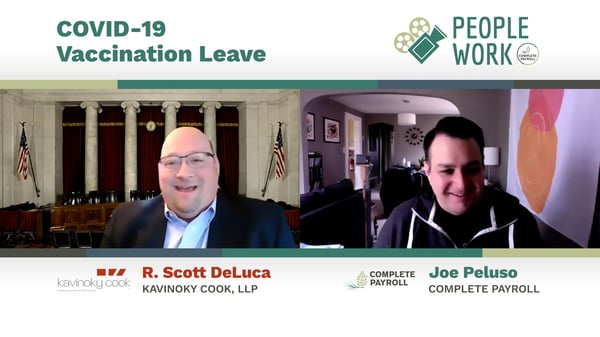 Scott DeLuca from Kavinoky Cook LLP joins Joe Peluso to discuss the Employee Retention Credit (ERTC or ERC), who is eligible for it, how they can take advantage of it, and how it was impacted by the recently passed American Rescue Plan.
Lessons Covered:
Origin of COVID-19 Vaccination Leave (Effective: March 21, 2021)
How much leave must an employer make available for COVID-19 vaccination?
How does COVID-19 Vaccination leave affect existing NYS COVID-19 leave obligations?
What other COVID-19-related leaves should employers/employees know about?


Watch the Full Episode:
Contact Scott DeLuca:

Web: kavinoky.com
Email: rsdeluca@kavinokycook.com | Cell: 716.481.8216