5 Reasons You're Paying Overtime Incorrectly | Unfiltered HR e.014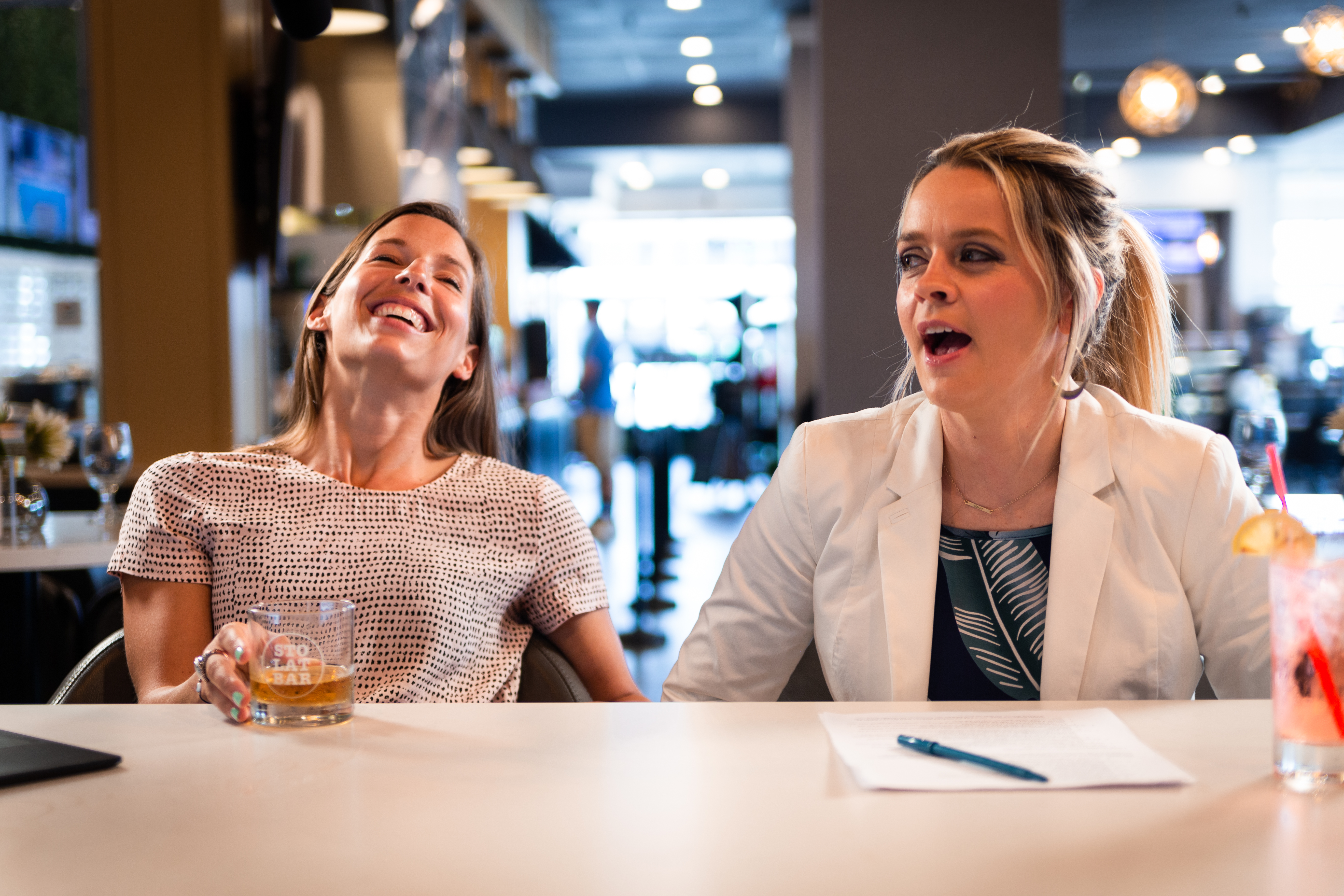 Overtime is not as simple as "Time and a Half". Especially in NY State, there are a number of factors that go into calculating overtime rates. And not knowing them can cost your business thousands of dollars.
In this episode, Emily Martin (Ally HR Partners) and Jen Strait point out five costly mistakes that employers commonly make when calculating overtime rates, so that you don't make them yourself.

📚 Important Resources:
Watch the Full Episode:
Questions? Suggestions?

Would you like to host an episode of Unfiltered HR?
Email us: UnfilteredHR@completepayroll.com
🇵🇱 Thank you Ania, Andrew, Peirogi Pete, and the staff at Sto Lat Bar / Chrusciki Bakery, Inc. / Simply Pierogi in Williamsville, NY for hosting us! Check them out:


Learn more about Ally HR Partners and schedule a FREE consultation with Emily Martin: allyhrpartners.com


Meet Jen Strait | completepayroll.com/jen-strait
Read the Full Transcript:
NOTE:

The following transcript was auto-generated. There may be some minor spelling and grammatical errors. It seems we are still safe from the machines, for now.



| | |
| --- | --- |
| Jen Strait | Hi, everyone. We are back with our unfiltered series. I am Jenn Strait with Complete Payroll. |
| Emily Martin | And I'm Emily from Ally HR Partners. |
| Jen Strait | But you know what? Before we do anything, we're to Cheers to that Cheers to Summer. Sorry we haven't been around, but we've been enjoying the weather. But we're back. Today, we are going to talk about five reasons you may not be paying overtime correctly, which is a huge huge topic right now. But before we hop into that, we want to say thank you so much to Anna and Cody and Andrew for allowing us to be at the Sto Lat Bar. |
| Jen Strait | And there's also Chrusciki Bakery behind us and these simply pierogi. So it's a it's a compound of restaurants that you can hop around. You get a bakery item, you have a program, and then you go to the bar. I really do care all day. |
| Emily Martin | Morning for. |
| Jen Strait | Bakery items. And they have a brunch, too, which is amazing. There you go. So thank you. So much for letting us sit at the bar and enjoy your bakery items and your drinks and your food. If you would like to have us host, we would love to come visit you. Please let us know. Shoot us an email, a message. |
| Jen Strait | We would love to come shoot our video there. So let us know. |
| Emily Martin | And hopefully have some beverages, right? Yeah. Just a little break for a couple episodes, but now we're back. |
| Jen Strait | Yeah. Yeah, it's summer. So if you if you have beverages and scenery, we're always looking for scenery to store space. Outdoor space. All right, let's. |
| Emily Martin | Hop into it. Yeah, John. So this is probably an unsuspecting but very valuable topic for our viewing audience. We're going to talk about really five reasons you may not be paying over time correctly. So over time, right. Seems like a really simple concept generally. Employees, if they work over 40 hours in a week, they're eligible to be paid overtime and need to be paid over time at time and a half the regular rate. |
| Emily Martin | But it's really not that simple, John. |
| Jen Strait | Unfortunately, so says this. |
| Emily Martin | Paper, I get to be the bearer of bad news. And yes, so the bad news is that the DOL, especially the federal level, has clearly and explicitly stated and probably talked about this in a couple other episodes and written pieces that they're going to be more proactively seeking violations by employers in these areas of wage and hour law, which includes overtime. |
| Emily Martin | So there's already been a lot of news out there about some recent class actions and other cases specifically for restaurants and manufacturing and warehousing industries, which are usually the least educated on these subjects where there have been some heavy claims and fines. So we thought it would be a good idea to talk about what some of the biggest pitfall areas are and the misunderstood areas of what needs to be included in that overtime calculation. |
| Emily Martin | Hours But you guys can take an audit of your practices, get in touch with complete payroll or your payroll provider, and make sure it's all set up and ready to go. |
| Jen Strait | There is already a lot right now but yeah. So basically what you need to take away so far from this is it's not just time and a half. |
| Emily Martin | Correct? Yeah. |
| Jen Strait | Or and we're going to get into the details about that. But you don't know what you don't know. And it's, you know, you think you're paying time and a half and you think that's right. But in many cases it's not. And almost I guess in all cases, it's not right just to do that. But there are formulas that are involved and things that you need to consider. |
| Jen Strait | And we're going to happen to those right now. |
| Emily Martin | And this is a little bit math oriented, right? So which can be hard to explain and articulate in person in an effective way. I'm not a math teacher. So we do have a written piece that has already actually come out that you can can find on my website. On our partners dot com. That breaks down a lot of this and further details, the exact five points we're going to talk about today with math examples to illustrate the points here. |
| Jen Strait | Math examples yes. SNAP, you already stress some people have, but Lisa's examples. |
| Emily Martin | And there's way complete they can help and we'll talk about. |
| Jen Strait | Those. Right. You don't want to do the math. We'll do the math for you. |
| Emily Martin | Yes. All right. So the first and probably most commonly misunderstood or unknown fact is that especially in New York State and there are other states as well, there is a requirement to calculate overtime on what's called a weighted average basis. And so what that means is if an employee, especially in cases, if they're working multiple pay rates, multiple jobs that are multiple periods in a certain period, or if they have shift premiums or differentials or whatever you might call them, included in their pay, where when they work certain shifts or days, they're getting paid extra hours, maybe less desirable shifts. |
| Emily Martin | All of that needs to be taken into consideration when you are calculating the overtime rate. And this is all based on the origin point of that, which is the regular rate of pay. So a lot of times employers may just calculate the regular rate of pay based on the active rate. Someone's actually working the job. They're working, right. |
| Emily Martin | So say someone's working $15 an hour for part of the week and on the minimum wage, 1324 the other part of the week, you actually need to take an average of those rates and the hours worked and use that to calculate what the average rate of pay is and then use that number to calculate the overtime rate John. |
| Jen Strait | So that's why you were saying that it's most common in restaurants and manufacturing because restaurants, your work, you could be working a cook shift and a server shift and a whole shift and those are all different pay rates, for one example. But that's probably the most common. Yeah. And that's where if you're working overtime or manufacturing, you're a driver one day you're working in the warehouse, another day. |
| Jen Strait | Those are different. And it's not the overtime isn't what just that shift is, right? That formula. |
| Emily Martin | Yeah. Or if you're in a restaurant like here, I mean, you may have a manager who's working in a manager capacity for part of the week and then a bartender capacity for another. So where this gets into trouble is, is during the overtime hours, right? Someone hits 40 hours in the week. If during the overtime hours toward the end of the week, they're working in the lower wage position and you just pay over time on that rate. |
| Emily Martin | That's actually not reflecting a weighted average or that higher rate you worked earlier in the week. So therefore the overtime rate would be lower than it needs to be. So you have to calculate an average of all the wages earned. So then calculate the overtime rate and again will be an example on our website. But if you have basically the flag for right now is if you have employees that are working multiple three jobs in the work week, this is something you need to make sure is considered and you can get programed into your payroll system, whether it's complete payroll or another payroll system. |
| Emily Martin | You can have them set up a formula for this. But I mean it should be like it should. Yeah, yeah. |
| Jen Strait | But in all seriousness, make sure you are checking with your payroll company because are they is a payment company responsible for letting you know they are figuring that out or is the business owner making sure that that's being done? So that's something that you have to at least talk to your payroll provider about that that formula is set up because it's not automatic, right? |
| Emily Martin | It's not. So if your payroll company is going to tell you about unfortunately there is that fine line between what Jen does and what complete payroll does and what we do at LH, our partners, which is making sure that you're compliant versus running your payroll. So it is something you usually need to request and ask for. And that's pretty common. |
| Emily Martin | And all right. So number two, Jen. |
| Jen Strait | I'm going to have a sip of this. |
| Emily Martin | I know it's a lot. Grab a drink at home and drink along. All right. So number two is it kind of goes along with number one. But similarly to that, probably you also aren't understanding or don't know everything that has to be included as a regular wage when determining total wages to then determine the overtime rate. So the best example here is John if you are a company that has hourly employees who need to be paid over time and they're making commissions or bonuses or have stipends as part of their pay all of that needs to be used in the gross total to then divide by the number of hours to determine what someone's regular |
| Emily Martin | regular hourly rate is, to then determine what the time and a half rate is. |
| Jen Strait | That is very interesting. I can honestly say I don't think anyone would think that correct. |
| Emily Martin | It's very commonly known it seems simple if you're paying someone a medical opt out benefit or something like that or a bonus for a time or something like that, you would not think that has to be included to do with overtime calculation, but it does. And this is a really common area where things can add up. If you pay someone $500 bonus, they can obviously greatly increase their overall average pay rate, which really would increase the overtime rate. |
| Emily Martin | So it can mean big back pain. |
| Jen Strait | That's you mentioned you said savings. So that's like if they get a car allowance or a phone allowance, that's all included. |
| Emily Martin | In their salary. Yeah, it could include those items because really the best case scenario would be to have those things processed and payroll is reimbursement, not a stipend so that they can be differentiated between what's supposed to be regular pay and what's not so these are all things to audit in your own payroll practices. |
| Jen Strait | And wage payment practices. Yeah, that's something definitely look at them and it's good to know because that's when you start doing the calculations for the overtime. Yeah, having the reimbursement will make things a lot cleaner. |
| Emily Martin | Yeah. And this is probably mere dollars. You know, each payroll for each employee, but if you have multiple employees and then going back three years, that can add up to a lot of money over time and the dollar will go back up to three years in some cases for these violations. So definitely something you want to take care of. |
| Emily Martin | All right. And again, there's a math example on my website with certain examples for this, too, if you want to follow up and look at that and how it affects the overall rate. |
| Jen Strait | And if that doesn't get you to a payroll company, I don't know what will. |
| Emily Martin | Yes, I know so. All right. The last three items, John, they aren't as complicated. They're a little more simple, a little bit easier. Hopefully, you're already doing some of these and some of these things mentioned in past videos as well. But the third way you may not be calculating it properly is just simply by not including all the time that needs to be counted towards hours, worked for overtime and then includes breaks just so we've talked about this before. |
| Emily Martin | Employee breaks, a huge area where people don't think about the implications later. But if you are auto deducting meal periods and not having employees clock in and out a record that they actually take through meal periods each day that they are due to take them that 30 minute time for lunch or whatever it is you really should be doing that because it takes just one employee to come in and say they never took their breaks or that they even worked for a part of those breaks or that they were asked to leave customers during their breaks to have the doll say, guess what? |
| Emily Martin | You're going to pay that person for three years of race now. Right? And that's a lot of time. |
| Jen Strait | There's no way to prove that. And it could be on, you know, the benefit of most people where the employee is saying or the employer is saying, you have to take this break and there's almost no way for them to babysit everyone to make sure that they are taking a break. And maybe the employee themselves, you get wrapped up in your work and you just don't realize that you're not taking a break. |
| Jen Strait | But then but then there's issues if you're not punching out and you are getting deducted for that and you're not being paid for that time. So it's really important you have even if it's salary have those punches recorded record, recorded record, there couldn't be anything better than having electronic recording of of all punches, whether your salary or not. |
| Emily Martin | Those records will save you endless amounts of, you know, past you wait his attorneys fees to fight these things, whatever it might be. So do not autodidact if you're doing that now with any federal provider with would definitely recommend changing that practice. The best thing to do is have to place record breaks or get around all of it by just paying for the meal period range because that removes the financial motivation for the DOL or employees to come after you for questions later. |
| Emily Martin | Absolutely. All right. Number four, we're getting there to model number four. This is something we've talked about in a previous episode as well. But just going to touch on it again here. Another thing that you potentially could be doing that's causing an overtime issue is treating nonexempt employees incorrectly as exempt employees done. So when we're talking about overtime and there's previous episodes on this and written pieces on my site as well, the only employees that you have to pay overtime to are nonexempt employees. |
| Emily Martin | And those are the employees who typically are going to pay on an hourly basis. If you're paying someone salaried, most likely you're assuming they're exempt or exempt from needing to be paid overtime, which means you're not tracking hours and you're probably not paying any overtime for hours. Worked over 40 in a week. But as we've talked about before, miss classifying employees as exempt when they should be nonexempt is a very common error that employers make. |
| Emily Martin | There is both a minimum salary requirement for someone to be exempt or salaried and a duties and responsibilities test that has to be passed. So if you have any doubts at all whether that classification is correct, had to pass videos, had to my website, find the test there the details there and make sure that you know who needs to be tracking hours and who needs to be paying overtime too. |
| Jen Strait | Absolutely. And is that different on the federal and state levels? |
| Emily Martin | It is the state minimum salary requirement in most cases for New York State is higher than federal. The duties taxes the same. And what federal the federal minimum is going to be going up any day now we're just waiting to hear what that number is. So we'll bring that to you when we have it. |
| Jen Strait | Brady breaking that breaking news. |
| Emily Martin | But yeah, just make sure people are classified properly and you know who you need to be tracking hours of paying overtime for for you. Yeah, absolutely. So the day you all comes in, it's the employees word and the dollars word against yours. And unless you can if you can actually prove whether or not they worked overtime, you're going to be paying that time. |
| Jen Strait | Yeah, yeah, yeah. And it's not worth the hassle. |
| Emily Martin | You know, like you said. |
| Jen Strait | Benefits, even if you're right to try to you can't prevent if it's not reported. |
| Emily Martin | Electronically, you're guilty until proven innocent in most cases of being an employer. |
| Jen Strait | Yeah. So there are some things to do to avoid all of that. |
| Emily Martin | Yes. All right. Number five, we've made it. This is the simplest one of all, the easiest and the easiest to fix. But the simplest mistake you could be making is just simply not recording properly. Recording or having employees record their time works at all. Right. So if you have complete payroll and you're processing payroll to complete payroll or another provider and you don't have any sort of time tracking mechanism in place, you really should be doing it. |
| Emily Martin | Best case scenario is having employees live punch with a timestamp when they come to work, when they leave for their break, when they come back for their break, and when they clock out. If you're not willing to do that or think your employees will hate it, at the very least, have people self-report total hours work each week. So there's an actual employee stated and generated record that says This is the hours I worked and therefore I was or was not do any overtime for this time. |
| Jen Strait | Right. And again, we talk about whether you're exempt or not exempt. Even if you're not do overtime, it's still going to have those recordings and salaries because you can get in getting a little bit. Yeah, massive Department of Labor. |
| Emily Martin | That's best cases to have everybody do it. In case there's ever a question of that classification later, you can at least prove but. |
| Jen Strait | And it's good to have it uniformity I think with all the employees. Yep. Right. And I mean. |
| Emily Martin | Even if you're a small employer, and everyone trust each other and it's a casual. |
| Jen Strait | Schedule all the time, it's family and friends. But again, it takes 11 employee that you add it on. |
| Emily Martin | Yeah. |
| Jen Strait | Or the Department of Labor deciding to to walk into the business, making sure that. |
| Emily Martin | What size you are. |
| Jen Strait | That everything is done correctly and that's what you want. You want to protect your business. We see this all the time. You work so hard to create your business and you want to protect it and take all these measures just just as you were to have insurance. Correct. You're hoping that you don't need to use the insurance, but you have it so you can protect yourself. |
| Emily Martin | Absolutely. Yeah. And that's what we're here to do, is help you understand and and get better educated on what it is you don't know. So you can go back and audit these things for yourself and protect yourself. So, John, the takeaway again for all this is over time is not as simple as it seems for the reasons that we've stated. |
| Jen Strait | Side reasons. |
| Emily Martin | We say the five reasons, which again are inviting onto my website as well. So take a look at this. Make sure that you understand if you have supplemental pay as part of any hourly employees pay bonuses, whatever, and that, you know, whether or not that should be included in the regular rate calculation, make sure you're tracking all hours, tracking all breaks and talk to your payroll provider to make sure that they're automating as much of this. |
| Jen Strait | Possible for you, enough to automate it for you. So you can run your business. Well, thank you so much, Emily, and we hope to see you again real soon. Thank you again to Anya and Andrew and Cody. And we got probably Pete over there. Maybe he'll make an appearance later on this year. And still a lot trains are running really well, so we hope to see you here. |
| Jen Strait | I'm here often, so OK. |
| Emily Martin | We'll see you here. We'll plan to meet here to talk about all the time. |
| Jen Strait | All right. And message us if you would like, for us to be at your bar next. All right. Thank you. Cheers. |
Get The Newsletter
Bi-weekly on Thursdays. We compile HR best practices, labor law updates & other content to help you pay and manage your workforce more effectively.