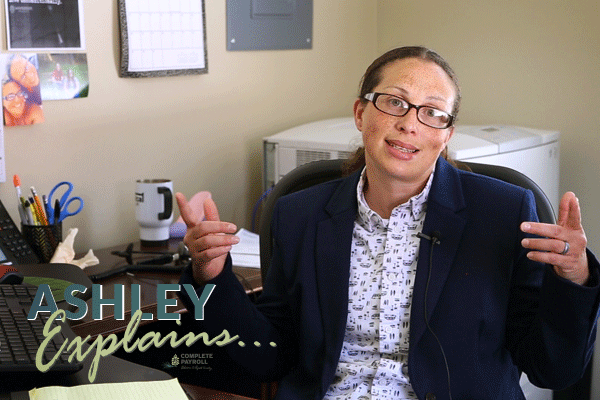 This time, Ashley explains one of our favorite topics so far: herself!
We recently sat down with Ashley to discuss where she's from, what makes her such a great leader, and what she likes to do when she's not slingin' facts about tax!
Check out the interview below:
Read the Transcript:
Ashley:
My name is Ashley Hamilton and I'm the Tax Manager here at Complete Payroll. I am a board member of the Wyoming County Chamber [of Commerce] and I have my C.P.P., which means Certified Payroll Professional.
Tell us a little about where you're from:
I am from Perry, New York. Formally from York, New York. Even more rural than Perry, New York.
Any embarrassing stories from your childhood?
My mom used to make outfits. Like jumpers. You can tell growing up where my mom stopped dressing me. Pink, and skirts, and jumpers, and then it was gym shorts and a t-shirt.
And, here's the kicker: matching [outfits] for for my sister!
Tell us a little about your family/friends/etc.:
I am recently engaged to my fiancee, Natalie. I'm "Bae-Z" and she's "Feyonce".
I know... we're one of those couples everyone hates because we like actually like each other. We have two children that we want people to know about: Rocky and Apollo, which are dogs, and a cat that we don't want people to know about: Cali.

How long have you worked at Complete Payroll?
I've been here for four years. Is that weird? That's weird.

What does "Payroll Country" mean to you?
Payroll Country, to me... I think of my grandma. It's, "yes ma'am," "no ma'am." Good manners and doing the right thing.
What is your favorite part of working here?
The best part working here for me is the friendships that I've developed. In fact, one of our team members is in my bridal party. Shout out to Heidi Goodell!

What is the best piece of advice you've ever been given?
Rick Sr. always says: "You can't dance if you don't ask."
You're afraid to do something? You wanna go talk to your boss? You like so and so and wanna ask them out on a date? You can't dance if you don't ask. You'd be surprised all the things that you don't get a "no" to.

What personal accomplishment are you most proud of?
I've competed in boxing and kickboxing for about 10 years. That doesn't seem like a big accomplishment, but for me, I had both my hips replaced when I was 15 and they told me that I was never gonna play sports again. That taught me that I don't have to play by their rules or listen to what they want me to do. I can still be me and do stuff, as long as I feel comfortable doing so.
What are your favorite hobbies?
I definitely like working out, going to the gym. I also have a lot of shows that I follow.

Favorite Movie(s)?
I'm gonna get picked on for my favorite movies, but I am a big Mighty Ducks fan. Those have been some of my favorite movies since I was a kid. I have no idea why. I wasn't a hockey player. I also love the Rocky series. And I liked that before I started boxing or kickboxing. Saturdays, they would have Rocky marathons. I would just get hooked watching one after another.

What song are people most likely to hear coming out of your stereo?
"Sorry Not Sorry" by Demi Lovato is my jam! I get really hyped for that song because it's like female empower song.

What's something people would be surprised to know about you?
The one really girly thing about me is that I love musicals, singing and dancing together in a film? LOVE.

Cake or Pie?
I love sweets. It's my problem. If it's my grandma's pie, I'm choosing that. But I'll also not ever turn down cake.

Tell us about your first car:
My first car, a 95 Chevy Cavalier, it was purple, we called it the Purple Monster. I could not have asked for a better first car.

How does Ashley Hamilton want to be remembered?
I want to be remembered as a leader, as a motivator and as a protector. I like making people feel safe but also, I can be a hype man. I know how to get you hyped up to do what you want to do. I'm a coach's daughter. So I think that comes, from being around that all the time. I can motivate. Protection to me is huge. I have what I call a "pack." If you're my friend, you're in the pack.

Joe (off-camera): "Can I be in the pack?"
Yeah, you're totally in the pack! Anybody that is good to me, I'm gonna be good back to them and I'm always gonna look out and make sure everything's going okay.
Got any tax questions you would like Ashley to explain?

Email her at ashleyexplains@completepayroll.com
Get The Newsletter
Bi-weekly on Thursdays. We compile HR best practices, labor law updates & other content to help you pay and manage your workforce more effectively.