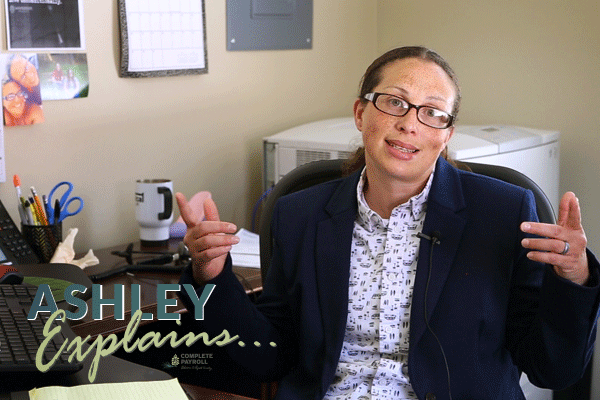 In this episode, Ashley Hamilton why your NYS Labor Law poster is (probably) still in compliance, and how to check.


Check out the video:
Read the Transcript:

Ashley:
Ashley! Ashley! It's January 1st and I haven't received my new labor poster!
Don't freak out. You're probably still in compliance.
I'm Ashley Hamilton from Complete Payroll and I'm gonna explain everything.
[music]
Labor Posters.

As usual... something very riveting to talk about today

This time of year, everyone has a million other things to worry about other than labor poster compliance.

State websites are difficult to find, and even more difficult to follow. You want an expert to rely on.

Now... I'm with you on this one. My department doesn't support our labor poster service.
and I'm not in HR.

So why should you take my word for it? You shouldn't!

Check this out...

Here are our current postings.

As you can see, we haven't hung a new poster in a while.

I've never done this before, but feel free to time me.
Out of compliance! Yikes! Let's see what this has to tell us.

Let me scroll down to New York in our case.

Ok, our poster is the 12/04/2017 edition, so we need everything after that.

Looks like there are four that apply to us.

Discrimination and Fair Employment... those are here and here.

Minimum Wage and time off to vote... right here and here.

That's all of them. Looks like a big... bunch... of... compliance here!
An older poster doesn't mean you're out of compliance,
and a newer poster doesn't guarantee that you're in compliance.

Like I said, I'm not the expert here. But if you'd like one, contact our Auxliiary Services department: aux@completepayroll.com

They like to say, "you're never charged for support... so get all you can."
If you have any questions for me - NOT about labor law posters - you can reach me at ashleyexplains@completepayroll.com
Thanks for watching!
Got anything you'd like Ashley to explain?

Email her at ashleyexplains@completepayroll.com

Thanks for Watching!