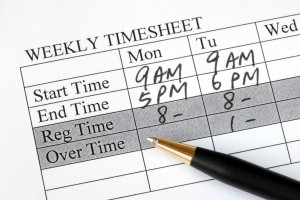 Whether you expect your employees to work overtime or it's something that occurs occasionally, it's important for you to remember the rules for overtime. Who gets it, and how much do they get? Who is not entitled to overtime? For the answers to these questions, read on:
In New York State, the overtime pay requirement is based on hours worked in a given payroll week. You're not required to pay overtime just because someone works more than an 8-hour day or on a Saturday or Sunday if the overtime hours do not put the employee past his or her agreed-on number of hours a week.
Covered employees should receive one and one-half times their regular hourly rate of pay. For non-residential employees, that applies to all time spent working past 40 hours in a payroll week. For residential, or live-in workers, that applies to all time spent working past 44 hours in a payroll week
Some employees are not covered, however. Under federal law, you are not required to pay certain types of employees one and one-half times their regular rate of pay. These employees work in what are called "exempt" positions. However, employers should always be sure to know the exact terms and conditions of an exemption in light of the employee's actual duties—don't assume an exemption might apply to the employee.
The following positions are commonly exempt, but this list is not all-inclusive:
Commissioned sales employees of retail or service establishments, if more than half of the employee's earnings come from commissions and the employee averages at least one and one-half times the minimum wage for each hour worked.
Computer professionals: Certain computer professionals paid at least $27.63 per hour are exempt from overtime provisions.
Drivers, driver's helpers, loaders and mechanics are exempt from overtime pay provisions if they work for a motor carrier and their duties affect the safety of operation of the vehicles in transportation of passengers or property.
Farmworkers employed on small farms are exempt.
Salesmen, partsmen and mechanics employed by automobile dealerships.
Executive, administrative, professional and outside sales employees, as defined by the Department of Labor, who are paid on a salary basis.
If you would like further information about the application of these exemptions, contact your local Wage and Hour District Office. To find out more about how our payroll and benefits services can save you time and money, contact Complete Payroll Processing. And for more information about new overtime rules and regulations, visit our blog.