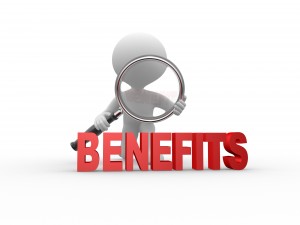 What's the latest in benefits for 2016? What are your competitors and colleagues offering? Here are four things you should be thinking about during open enrollment season:
Automated, integrated benefits. Online systems that automate your processes are becoming very popular. For example, they can help your employees enroll or terminate their healthcare, or file claims—and get reimbursed more quickly and easily. And, you can add in other benefits programs like absence management, safety management, workers' compensation, and wellness. You may be able to automate retirement accounts, too. Having this information at their fingertips empowers your employees and saves you time and aggravation—a win-win!
Financial health. If your employees are stressed about money and the future, it can impact their physical and emotional health. You can help by providing resources to help your employees manage and invest their money. Try offering seminars on saving for retirement or college, giving them one-on-one access to a financial advisor, or even setting up online resources. A recent survey found that 93 percent of 250 employers surveyed really want to know more about how to achieve "financial wellness."
High-deductible health plans and HSAs. Let's face it, health care costs aren't getting any lower. One way to ease the pinch on your company's pocketbook is to shift some of the expenses onto your employees BUT offer a health savings account (HSA). The average deductible amount has nearly doubled in the past decade, and it can be tough for employees to take on that kind of expense. To help them cover out-of-pockets costs, let them pay for medical expenses with a HSA. HSAs not only help employees now, but they can save it for the future: the money they put in their HSAs doesn't need to be used the same year, and after the age of 65, they can withdraw funds tax-free for nonmedical expenses. Plus, earnings and interest on HSAs are not taxed.
Wellness programs. These are still hot, because healthy employees save you money by being more focused and more productive. Whether it's health and lifestyle coaching, smoking cessation programs, or incentives or bonuses for employees who participate in fitness programs or complete health assessments, every little bit counts. It also sends a message to your employees that you care about their health and well-being. New trends include a more holistic outlooks, which may include perks like on-site massage therapy,
Wondering what else is new in benefits for 2016? Complete Payroll will be featuring more ideas and tips for your company's benefits later this month. In the mean time, check out the benefits section of the Complete Payroll blog to find even more ways you can make improvements to your company's benefits plans this year.