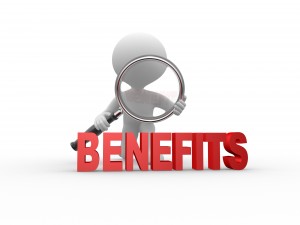 Earlier this month, we discussed four of the latest trends in benefits for 2016.
Here are three more:
Education and development. Employers who are looking to attract hot young graduates, especially those from the best schools and programs, are developing programs that can help these millennials pay off their student debt. Those companies that are suffering from the talent gap are helping to close it by offering to pay part of all of their employees' tuition in the first place.
Family-friendly policies. Again, to attract younger employees, you have to offer benefits tailored to their mindset. Offering extended paid leave for new parents of both genders is becoming a popular option. Think of how much publicity Netflix got for offering their employees unlimited maternity or paternity leave during the first year after a child's birth or adoption. Popular companies like Amazon, Adobe, and Microsoft also extended their leave policies. There are even companies that are offering to pay for their employees' young children and their caregivers to accompany their parents on business trips, to alleviate that stress on their employees. Remember, it's election season. Candidates on both sides of the aisle are going to be talking about the importance of families, and this is one way you can tap into the zeitgeist.
Mobile healthcare. Everything else is going mobile, so how about healthcare? There are companies that provide technology-enabled primary care, such as apps that provide 24-hour access to a virtual care team. These providers can help employees treat allergies and renew prescriptions without an office visit, or help them schedule a same-day appointment in certain cities. For employees who travel, this can be a huge convenience. And companies with more than one location can benefit, also.
What steps are you willing to take to attract talent with your benefits package? Have you asked your employees what they might like? Whether you send out a survey or hold a meeting or two, you might find out about something your employees feel your benefits package really lacks—that they could really use. Or, if you already offer some unique, popular benefits, share them below!
And if you need help brainstorming ideas and managing benefits for your staff, please give Complete Payroll a call at 888.237.5800. We can discuss your needs and provide solutions to fit your business.