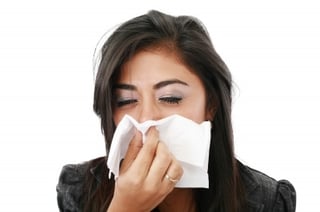 It's that time of year, when everybody seems to be coming down with something—usually a cold or the flu. And when one employee after another has to call in sick (or worse, comes into work sick!), productivity slumps and project deadlines may fall by the wayside. The Centers for Disease Control and Prevention says the flu alone costs businesses nearly $10 billion every year, mostly because of time lost to employee medical visits.
So how can you help keep your workplace healthy?
Here are some tips to help protect your employees and customers as much as possible:
Help employees ward off germs. Make hand sanitizer, tissues and disinfectants readily available throughout your work spaces.
Encourage sick employees to stay home. If employees are sick, tell them they should stay home for at least 24 hours after they no longer show symptoms. Consider creating a leave policy that allows employees to work from home should they (or their children) fall ill.
Enforce good hygiene in the work place. Institute the cleaning of shared equipment such as phones and computers, and wipe down common areas with disinfectant regularly.
Reduce the spread of germs. Post signs in bathrooms, kitchens and other common areas reminding employees to wash their hands. You can also send out weekly reminders about cleaning keyboards and phones to kill any germs that may be lurking on those surfaces.
Provide flu shots. Search for on-site flu shots through your local hospital, retail pharmacy or other health care provider. You can also offer to reimburse some or all of the cost for employees to receive the shot on their own.
Be a good example. You need to follow the same advice being given to your employees. If you're sick, it's just as important for you to stay home and keep your germs out of the office.
Encourage healthy behaviors. Eating nutritiously and drinking adequate water helps to keep your immune system strong. Provide snacks of fresh fruits and vegetables and be sure your employees have easy access to fresh water.
Cold and flu viruses are very contagious, but with some vigilance and education you can help stop their spread. CPP, a leader in payroll processing in Buffalo, Rochester and Syracuse, is committed to helping our clients stay healthy—and productive! And if you have any questions about HR or payroll we are here to help.
---
Photo courtesy of freedigitalphotos.net