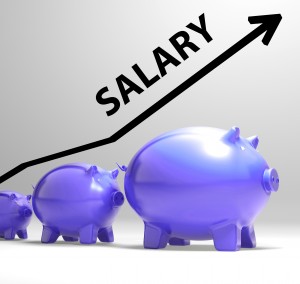 It's one of the major problems faced by employers today: the Internet makes it all too easy for employees to find out how much money others make for doing the same job in the same community. If you want to hire experienced people and hold onto the best of your employees, you need to make sure the pay rate and salaries you offer are competitive.
How to Know Whether Your Salaries are Competitive
Whether or not your salaries are competitive, the biggest problem you face may be your employees' perception. A recent study by Towers Watson found that only 50 percent of employees believe they are paid fairly. Robert Half's research shows that one-fourth of businesses lost employees in the past year to a job that paid more. It's highly possible that up half of your workers feel they aren't fairly paid—and a good amount of them may be planning to walk out the door toward what they perceive as greener pastures.
If you offer raises and bonuses, make sure your employees understand exactly how they are determined and when they are offered.
If you link pay to performance, you need fair and consistent employee-review practices so they can measure whether they are meeting expectations and on track to receive the extra money. This should be done more than once a year; managers should meet with employees at least 3-4 times a year.
How Does Your Compensation Stack Up?
How long ago did your company last evaluate wages and salaries? It's important to be proactive and regularly benchmark salaries to ensure you're offering competitive pay. You can:
conduct research by reading industry reports
ask recruiters, who should always be up to date on the going rates for salaries and benefits in the current job market
survey your employees, to ensure that they feel their salaries and benefits meet their needs.
On the other hand, you can't always pay more, especially if you have a strong total compensation package. It's important to communicate that fact to current and potential employees, so they realize that they're getting more than a paycheck. Are you offering health care, retirement, and other insurance? You can also emphasize non-monetary benefits, like flexible schedules, remote-work options and extra paid time off.
As 2015 draws to a close, now is a good time to determine whether you are offering your employees enough to make them happy—and make them stay. It's also a good time to determine whether payroll solutions would help make your business run more smoothly and efficiently in 2016. Call us if you have any questions!
---
Welcome to Payroll Country
People come first. Manners aren't optional. Good things aren't rushed. And a job isn't done until it is. It's not about where we work. It's about how we work.
Our team at Complete Payroll can help you determine if you are offering competitive salaries for your employees. Call us to discuss your payroll and HR needs for 2016 and beyond.