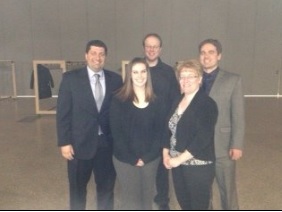 We are pleased to share that Complete Payroll Processing was honored and recognized as a Best Place to Work in Buffalo, NY at the 10th annual Business First Best Places to Work celebration, sponsored by Blue Cross Blue Shield of WNY.
A group from CPP attended the SCI-FI themed awards luncheon on Tuesday. And, even though we did not win in our category (small 21-50 employees), we were humbled and grateful to be featured and recognized amongst Buffalo's best businesses.
The nominees are based solely on employee surveys conducted by Quatum Market Research. The goal is to feature those companies whose employees take pride in their workplace environment. All those honored are on the list because of direct employee feedback!
Those companies that are Best Places to Work are usually great places to work, because their employees are happy, productive and engaged.
Our management team at CPP, would like to thank our employees who took the time to nominate CPP as a Best Place to Work. Without you, we wouldn't be a leader in the payroll industry in Western New York. Thank you!
CPP is Customer & Employee First!
With our broad range of payroll, HR and Employee benefits services in Buffalo, CPP has met and exceeded the rigorous demands of businesses for over 30 years. Our company was built on a foundation of integrity. The success of CPP is a result of our commitment to putting our clients and employees first. If you'd like to be a part of a Best Place to Work in Buffalo, NY, please check out CPP's top open positions.
---
About CPP
Complete Payroll Processing, Inc. (CPP) strives to be the leader and most trusted source for the payroll processing industry in Western New York. CPP is a service centric organization that offers a suite of personable, affordable, dependable and accurate payroll, human resource, employee benefit and time and labor solutions. CPP and all of its employees model themselves after the guiding philosophy, that CPP is Customer First!