Coronavirus: NY, CA, & PA Implement Strict Workforce Restrictions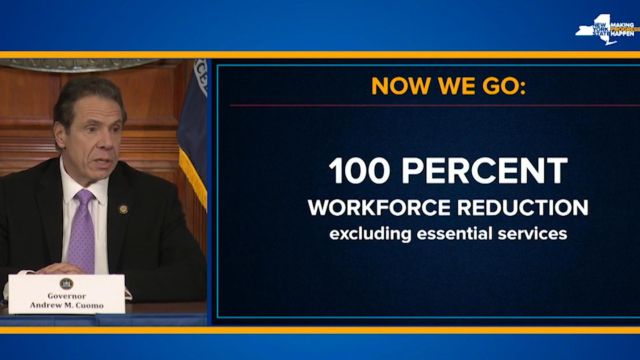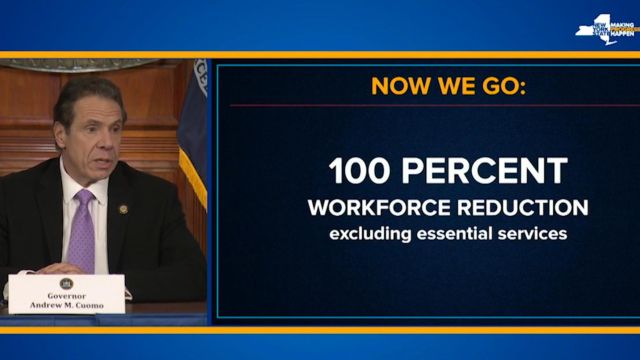 Overview:
New York (NY)

"100% of the workforce must stay home"
New York State "on Pause"
Pennsylvania (PA)

All "non-life-sustaining businesses" across Pennsylvania closed.
List of Pennsylvania's "Life Sustaining Businesses"
California (CA)

"Statewide order for people to stay at home."
In response to the ongoing Coronavirus pandemic, state officials have been taking drastic workforce measures to keep their residents safe, and to slow the escalation of this rapidly-spreading virus.
Here is how three of the nation's most populous states, New York, California, and Pennsylvania have recently responded to this growing threat.


California
The nation's most populous state was the first to take the most drastic action yet in the fight against Coronavirus. Effective at 12:00am Friday, March 20th, California Governor Gavin Newsom ordered that, until further notice, the state's nearly 40 million residents are to stay home, except for essentials like food, prescriptions, health care, and commuting to work.
Sectors deemed critical to infrastructure are exempt from the order. These include critical government services, schools, childcare, and construction, including housing construction. A full list can be found at the Cyber and Infrastructure Security Agency's website.


View a portion of Governor Newsom's address here:
It is important to note that as of this post, California's order is not being enforced legally.
"I don't believe the people of California need to be told through law enforcement that it's appropriate just to home-isolate, protect themselves," Newsom said. "We are confident that the people of the state of California will abide by it and do the right thing."
View California Governor Gavin Newsom's full Executive Order: https://covid19.ca.gov/img/Executive-Order-N-33-20.pdf

For more information about California's COVID-19 response, visit: covid19.ca.gov
New York
One day after California's announcement, New York followed suit. Effective Sunday evening, March 22nd, New York Governor Andrew Cuomo is mandating that 100% of the non-essential workforce in New York State must stay home. Working from home is still permitted as of this post.
View the Governor's remarks here:
Essential business in New York state include, but are not limited to:
Shipping
Media
Warehouses
Grocery and food production
Pharmacies
Healthcare providers
Utilities
Banks/Financial Institutions
Other industries critical to the supply chain
For a full explanation of the difference between essential and non-essential businesses in NYS, visit the Empire State Development's page.
""We need everyone to be safe, otherwise no one can be safe," Gov. Cuomo said, adding "this is the most drastic action we can take."
Click here to view the full text of Governor Cuomo's order.

For more information on New York State's response to Coronavirus, visit: https://coronavirus.health.ny.gov/home
Pennsylvania
On Thursday afternoon, March 19, Pennsylvania governor Tom Wolf ordered all businesses in Pennsylvania not considered "life sustaining" to close their doors by 8:00 p.m. that evening. According to the act, the prohibition does not apply to virtual or telework operations (e.g., work from home), "so long as social distancing and other mitigation measures are followed in such operations."
View Governor Wolf's remarks here:
Businesses found to not be in compliance by Saturday, March 21st could face legal action including fines, loss of business license, or even jail time.
"I had hoped for voluntary compliance so our public safety officials could focus on assisting with the crisis," Gov. Wolf said. "Unfortunately, we have not seen full compliance."
"This virus is an invisible danger that could be present everywhere," Wolf added. "We need to act with the strength we use against any other severe threat."
Click here to view the full text of Governor Tom Wolf's order.

A comprehensive list of Pennsylvania's "Life Sustaining Businesses" can be found here.
Get The Newsletter
Bi-weekly on Thursdays. We compile HR best practices, labor law updates & other content to help you pay and manage your workforce more effectively.