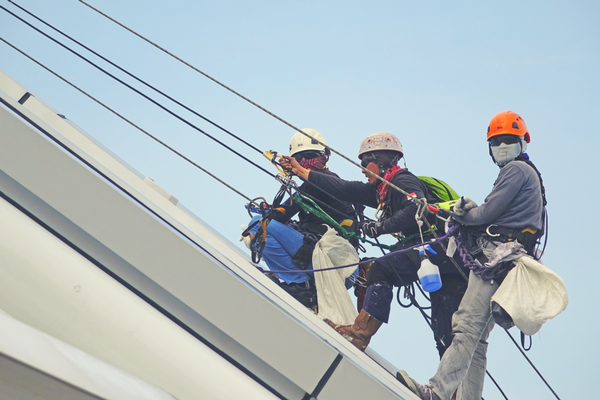 Do your temporary and seasonal workers qualify for unemployment?
Recently, one of our readers sent us this question...
"I have a seasonal restaurant open from April to November. I have an employee that works 30-35 hours per week, making $12 per hour, plus tips. She is very well compensated. When the season is over, she goes to Florida for 5 months and collects unemployment. Is that right, even if she's guaranteed a job (like a teacher) once the off-season is over?"
That's a pretty common scenario, actually. And the short answer is, it depends what state(s) your business is in, although the laws for most states are pretty similar. Since the person who asked us this question is in New York (and so are most of our readers), we're going to talk about New York, specifically.
According to the New York State Department of Labor, the unemployment insurance program will provide benefits to people who...
Have enough employment to establish a claim (that's explained here, by the way),
Have lost employment through no fault of their own,
Are ready, willing and able to work, and
Are actively seeking work.
The NYS DOL says if you worked in New York within the previous 18 months, you have a right to file a claim for unemployment benefits (again, that's just a right to file - it doesn't mean the claim will be accepted). It also says people may be eligible for benefits if you meet any of the following criteria...
You lost your job due to lack of work
The temporary or seasonal employment ended
Your job was eliminated
and several more...
Here's a screenshot right from the NYS DOL website where that policy is stated...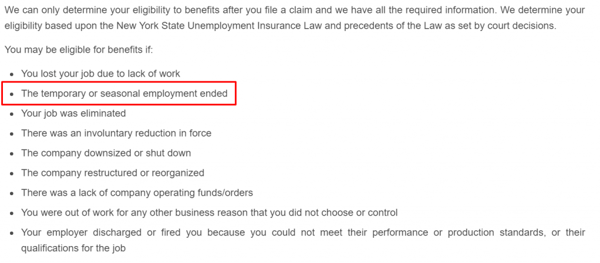 Therefore, should the well-paid seasonal restaurant worker be collecting unemployment benefits during the off-season?
Well, when she's in Florida for the winter, is she (a) actively seeking work or (b) ready, willing and able to work - in New York at least?
If so, then yes. She should be collecting unemployment.
If not, then no. She shouldn't.
Since she's spending the winter in Florida, one can likely assume she's not eligible for benefits. But that's just an assumption. How can you really know? Then, should you actually know, how can you prove that? In most instances, proving someone's willingness to work and/or their active seeking of employment becomes more challenging than it's actually worth.
However, if you feel strongly about this - perhaps you feel like you're paying a lot of money to seasonal worker(s) who should be cut off from employment benefits - your best bet is to contact an attorney that specializes in these matters. They'll be able to explain to you what legal grounds you may have and subsequently, what action(s) you may need to take.
For any questions about seasonal workers unemployment benefits, labor law or anything that related to payroll and running your business, don't hesitate to get in touch with us. We're always happy to help!