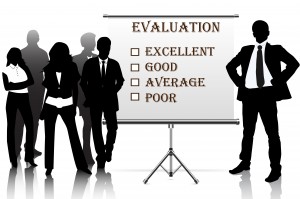 Nobody enjoys performance reviews. Not the employer, not the employee. Many managers feel like they're a waste of time, while many employees feel like they're being put on the spot or criticized, while worrying that they won't be offered a raise. Here's how to change those attitudes and make your performance reviews more meaningful!
Don't talk about money first. In fact, instead of using performance reviews to decide salary increases, discuss money separately. Your performance reviews should focus on what has been done and what needs to be done. If an employee spends the review meeting wondering whether he or she is going to get a raise, anything else you say about development or areas of improvement won't stick.
Think about what you need to accomplish. Do you need to discuss coaching and development for improved results in the future? Have you ever told your employee what career path options they have — what they have to look forward to in terms of job growth and development? Discussing advancement opportunities and what the employee needs to do to make it happen is a productive use of review time.
Be sure to set new goals. If an employee has met last year's goals, be sure to congratulate her on a job well done, then reinforce the fact that there's always room to move forward. Figure out an attainable goal for the next year that will keep her on an upward swing.
Other "Don'ts"
Don't store up feedback. If you spend all year noting an employee's flaws and failings, then dump them all on the employee's head at review time, you're setting that employee up for failure or even quitting. Give feedback, both negative and positive, throughout the year.
Don't hand out "report cards." Just discuss, in plain language, how they're doing.
Don't use a performance review for disciplinary actions. Again, any issues should be brought up as they happen, not saved for once a year.
Other "Dos"
Do make the review system a shared process, where the employee can write up a self-appraisal prior to the meeting. When both people in the meeting are focusing on the same thing, you're more likely to be evaluating results.
Do make sure the person who is conducting the review is the direct supervisor or manager. In other words, the reviewer should have daily contact with the employee whose performance is being appraised.
Do keep your evaluation focused on two things: Behaviors and results, not on personality traits like leadership, motivation or conscientiousness. Stick to discussing actions that you can observe directly or results that the employee achieved.
Do create a follow-up action plan at the end of the performance appraisal. Tell your employees what you expect to happen next: what steps they employee need to take to make sure they improve where needed, and what support you need to provide to make that happen. A positive, practical 3-4 step plan is ideal.
What have you done to improve performance reviews at your company? We'd welcome your opinions, ideas and suggestions in the comments section below. And if you have any questions about payroll, HR or benefits for the New Year, please do not hesitate to give us a call.