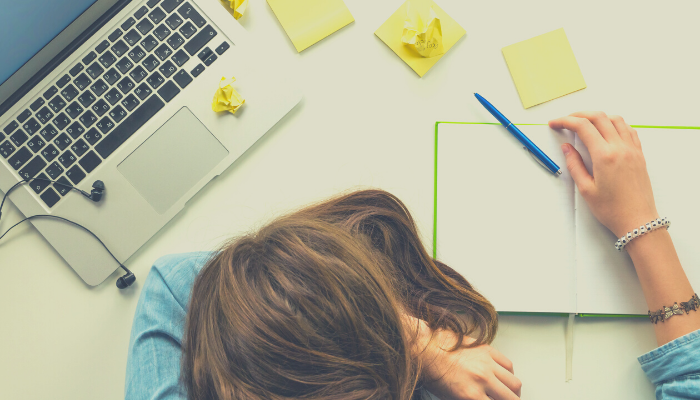 Employee turnover is a concern for every HR department. High turnover doesn't just cost the company money, it also costs time in hiring and training new employees.
But if you ask an HR representative, chances are they will tell you that the number one reason for high turnover in a company is employee burnout. How many will say that? According to a study by the Society for Human Resources Management (SHRM), 95% of HR leaders will blame burnout for their inability to retain staff.
Burnout is a problem best avoided altogether and dealt with early. In this article, we will explore what employee burnout is and how you can spot it in your employees for their own well-being and the long term well-being of your company.
What is Employee Burnout?
According to the Mayo Clinic, employee burnout is a specific type of work stress that leads to physical and emotional exhaustion in the employee. This exhaustion, while not a medical diagnosis, can still affect the physical and mental health of an employee.
One common myth about burnout is that it only impacts those who hold senior roles in a company or those who have emotionally stressful jobs, like nurses or teachers. However, it actually affects employees in a wide range of industries and roles today.
According to a Gallup poll of American workplaces, organizations are facing a full blown employee burnout crisis. Their study of 7,500 full-time employees found that 23% of employees reported feeling burned out very often or always. Additionally, 44% reported feeling burned out sometimes. In all, that translates to two-thirds of full-time workers experiencing burnout on the job.
What Causes Employee Burnout?
We tend to think of burnout as an individual problem. For example, if a person is feeling stressed at work, they need to just "learn how to say no" or "take some time for themselves" when not at work.
The truth is that employee burnout says more about the work environment than it does about the people doing the work.
According to Gallup, there are five main causes for burnout on the job.
1. Unfair Treatment
Unfair treatment can include everything from bias and favoritism to mistreatment by a coworker or unfair company policies. When an employee feels unfairly treated, they no longer trust their manager, teammates or leadership teams.
2. Unmanageable Workload
High-performing employees can quickly shift from feeling "on top of it" to hopeless if they are facing an unmanageable workload. Their feelings of being overwhelmed lead to further poor performance and damage their confidence to ever get on top of things again.
3. Lack of Role Clarity
Gallup's State of the American Workplace report showed that only 60% of workers can strongly agree that they know what is expected of them at work. Employees can quickly burn out when their goals and expectations are constantly changing and shifting.
4. Lack of Communication and Support from Manager
Support, communication and feedback are integral to the manager/employee relationship. If a manager is confrontational or noncommunicative, employees feel alone and uninformed, adding to their workplace stress.
5. Unreasonable Time Pressure
Time constraints aren't always created by management or company policy. Professions like firefighting and policing often come with built-in time constraints to respond to an emergency. While these types of professions usually have a high risk of burnout, jobs that might appear to be less pressure can be filled with it if people who make the deadlines don't understand how long it takes to give quality service or work.
Burnout is Not Unavoidable
Employee burnout can be prevented or even reversed by examining how employees in your organization are led. Not addressing the underlying causes for burnout will continue the culture of stress and lead to further employee turnover.
Complete Payroll can help you with this issue and all of your other human resources needs. Contact one of our professionals today to discuss how Complete Payroll can support your HR department and help create an environment where employees feel valued.