Employee Onboarding Best Practices for Restaurants
Written by Joe Peluso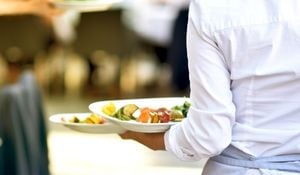 If you've been part of the restaurant industry for any amount of time, you know that it can often seem like a revolving door of employees. That isn't just your imagination, either. According to the National Restaurant Association, the restaurant industry saw an average turnover rate of 73% compared to 43% in the private sector.
And that was before COVID upended the industry.
This spells trouble for restaurants as front-of-the-house staff like servers and back-of-the-house workers like kitchen staff are essential for making sure a restaurant runs smoothly and delivers positive customer experiences. A high turnover rate also creates neverending recruitment and high costs associated with training for owners and managers.
While the reasons for high turnover in the restaurant industry have multiple dimensions, one way to curb that turnover is by offering employees a thorough and strategic onboarding experience when they are first hired. While comprehensive onboarding is often overlooked, it is a crucial factor in whether or not your employee stays or not. How crucial? According to research from The Brandon Hall Group, a great experience with onboarding can improve employee retention by up to 82%.
If you're looking to defy the statistics by instituting a winning onboarding process, here are some best practices you should consider when creating the process.
Automate All of the Paperwork
The first day of any job feels never-ending due to the amount of time that needs to be spent filling out and signing paperwork. Automate this process with an online system that allows employees to fill out paperwork at their convenience through a mobile device. Automating this tedious process leaves you more time in the schedule for more thorough training in other areas.
Train New Hires on the Culture of Your Restaurant
Company culture is an important element that inspires creativity and productivity among employees. A negative culture or unknown culture is what makes employees leave. Orient your new employees to what it means to be a part of your team, including your company's values and how that can be seen in the workplace.
Make Sure You Stay Compliant
It might not be the most exciting part of the onboarding process, but every new employee needs thorough training when it comes to company policies. These policies can include federal requirements such as the Americans with Disabilities Act, Fair Labor Standards Act, and sexual harassment policies. You also need to ensure your new employee is well acquainted with in-house policies when it comes to things like dress code, attendance requirements, and how to best communicate with managers and fellow employees.
Communicate Customer Service Expectations
Customer service is the cornerstone of any successful restaurant. Your restaurant probably has specific standards when it comes to how your employees interact with your clientele, and clearly communicating those expectations in the beginning is vital. Don't stop at simply reading off a list of expectations. Provide role-playing opportunities that expose new employees to difficult customer situations they may encounter. Have new employees shadow tenured employees who exemplify excellent customer service so they can see expectations in action.
Ensure Compliance With Health and Safety Measures
Health and safety should be on the mind of any owner or manager, especially as we make our way through the COVID-19 pandemic. However, it's especially important to any owner or manager of a restaurant. Knowing food safety guidelines forward and backward is what keeps your customers safe from foodborne illnesses. It also keeps you in compliance with your local Board of Health. Make sure to teach both front and back-of-house teams proper hygiene standards for their roles, how to properly handle food, and, of course, any current COVID-19 restrictions your restaurant is following.
Give New Employees Mentors and Constructive Feedback
Finally, make sure that the first day on the job isn't the last day they hear from you and other senior members of your staff. Pair up new hires with experienced employees who can not only verbalize instructions but show them how it's done. Designate a set amount of time that they shadow an experienced staff member before trying to go out on their own. Finally, provide them with regular constructive feedback from the beginning. Don't leave them wondering if they're performing their duties correctly. Give regular feedback and opportunities for improvement.
Above all, remember that your onboarding process needs to be real and applicable to your employee's role and place in your restaurant. Create a process that will not only acclimate your new hire to policies and procedures but create a process that makes them feel like they are part of the team from day one.
Looking for the most efficient way to onboard your restaurant employees? Complete Payroll can help you as you manage all your employees from onboarding to payroll to scheduling that is tailor-made specifically for your restaurant industry. Contact one of our experts today to discuss how Complete Payroll can make your job a whole lot easier.
Get The Newsletter
Bi-weekly on Thursdays. We compile HR best practices, labor law updates & other content to help you pay and manage your workforce more effectively.