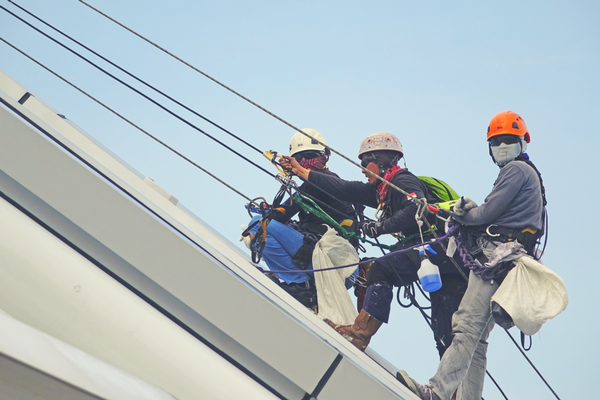 The Fair Labor Standards Act, also known as the FLSA, is a federal law which established minimum wage, overtime pay eligibility and a whole host of other issues to protect workers. But recent FLSA changes have caught the attention of many business owners.
The Department of Labor announced its revision to the FLSA on May 18th of this year.
Essentially, the recent FLSA changes represent an increase in the salary threshold that determined which workers are exempt from overtime pay, and which are not.
Previously, the law stated that any salaried worker earning less than $23,660 ($455 per week) per year MUST earn overtime pay. In other words they have to be paid "time and a half" for any hours worked over 40 in a given week. Any salaried workers earning more than $23,660 per year were considered exempt from the overtime pay requirement.
Now, that salary has increased. The new FLSA change raises the salary threshold to $47,476 ($913 per week) - which is slightly more than double what it was.
The punchline? Suddenly, millions more American workers are no longer considered "exempt" from the rule and now are eligible (and required) to receive overtime pay.
Here are the other things worth knowing about the recent FLSA changes…
This applies to white collar workers only.

The deadline to comply with the FLSA changes is December 1, 2016.

The salary threshold will be updated every 3 years to keep up with inflation, and some expect it to exceed $51,000 by January 1, 2020.
If you're an employer that has "white collar" workers on salary that earn less than $47,476 ($913 per week) and you suspect might work more than 40 hours per week, you have three options…
Hourly, non-exempt. Keep their pay the same, reclassify them as hourly, and pay them time-and-a-half for any hours worked over 40 in a given week.
Salaried, exempt. Give them a raise so their earnings exceed $913 per week and $47,476 per year - and don't worry about logging hours or paying overtime.
Salaried, non-exempt. Instruct your employees not to work more than 40 hours per week and enforce it with a proper

time and attendance system

. (But you'll still need to calculate an overtime rate should they exceed 40 hours in a given week.)
Here's a simple infographic that breaks down the FLSA changes…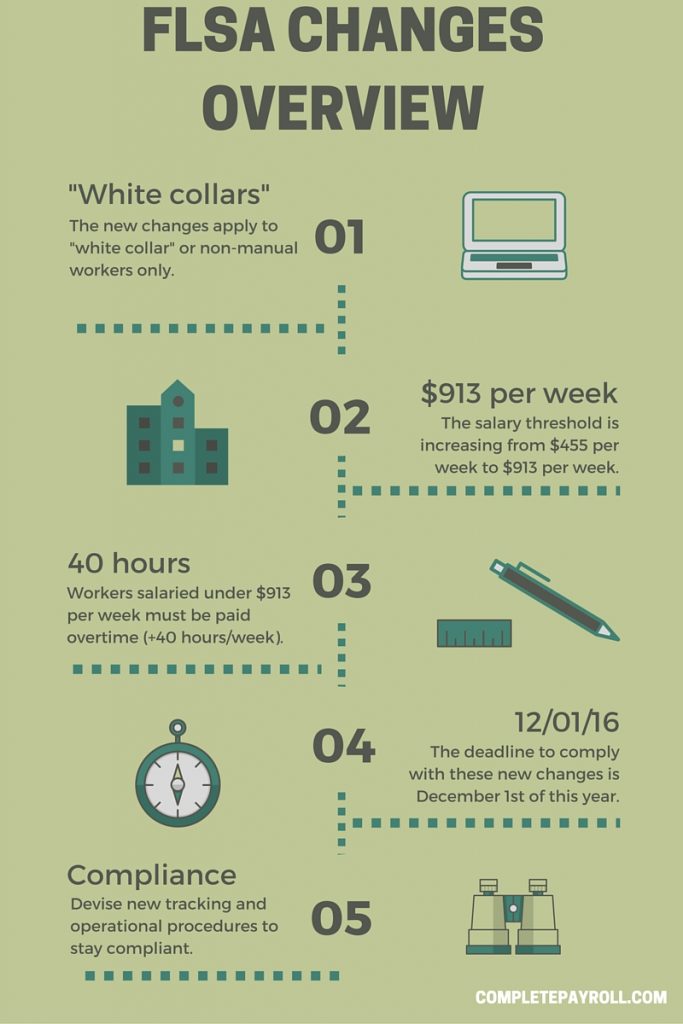 Want help complying with the new FLSA changes? Contact us and we'll have a payroll and labor law expert reach out to you immediately.