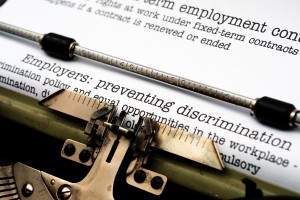 Sexual harassment is one of those terms that everyone knows, but don't really think about. And of course, there are other types of harassment that can turn your workplace tense or unpleasant. What is the legal definition of harassment, and what can you do to keep it out of your company's environment?
Under the Fair Employment Law, there are two circumstances where harassment in the workplace may be illegal.
If an employer, supervisor or co-worker singles a person out for harassment because of that person's race, color, creed, ancestry, national origin, age, disability, sex, arrest or conviction record, marital status, sexual orientation or military services.
If the content of the harassment relates directly to any of these protected characteristics, such as use of derogatory ethnic or religious terms. This is where sexual harassment comes in.
Many types of behavior can be defined as harassment: verbal abuse, swearing, sexually explicit or derogatory language, display of offensive cartoons or materials, offensive gestures or off-color jokes. Sexual harassment includes unwelcome sexual advances, requests for sexual favors and verbal or physical conduct of a sexual nature, especially when engaging in such conduct is made to seem like a term or condition of employment.
As an employer, you have a legal obligation to prevent workplace harassment from occurring. What can you do?
First, be sure that you have a written anti-harassment policy in place. It should provide a clear description of behavior that will not be tolerated, lay out the procedure for investigating and addressing harassment complaints and spell out the consequences if the situation continues. Be sure all employees have a copy of this policy after you have reviewed it with them.
If your company has an attorney, have the attorney review your policy for completeness and to ensure it clearly defines harassment in accordance with federal, state and local employment laws. If your company doesn't have a lawyer on staff or retainer, you can contact your local EEOC office.
Provide ongoing training seminars or classes for all levels of employees on what constitutes harassment of any kind. Go over your company's procedure for reporting, investigating and resolving harassment complaints and distribute copies of your company's anti-harassment policy. Be sure employees know who they should see about harassment complaints and that their complaints will be kept confidential.
As an employer, you have an obligation to promptly investigate and take steps to stop harassment. Otherwise, you may be subject to liability under the Law Against Discrimination. And know that you have to investigate all harassment complaints, whether they seem legitimate or not. If harassment is found, you have to act swiftly to correct the situation.
Protecting your employees against harassment is just one way to ensure a productive workplace. For other ways to enhance your company's productivity, check out the full list of Complete Payroll Processing's services at www.completepayroll.com. And if you would like to read more about this topic, check out this article about making sure your hiring practices are not discriminatory.