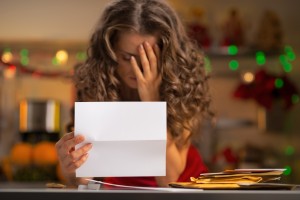 Does the "most wonderful time of the year" make you feel less than great? Let's be honest—the holidays can be a very stressful time. When you're dealing with shopping lists, crowds, multiple parties and forced family fun, being jolly can be a challenge. Here are some holiday survival strategies that may help you cheat the blues and possibly find some holiday cheer!
Avoid over-scheduling. You may feel obligated to attend every event you're invited to. But that can lead to overscheduling and a lack of "me" time. Is that selfish, during a season that's supposed to be about giving and loving your fellow man? Don't worry about it. Taking time to yourself, without distractions, will give you more energy and a much-needed sense of calm during the busy season. Before accepting an invitation, stop to think about how it makes you feel: Excited? Tense? Relaxed or apprehensive? If you're not feeling good about it, don't go. Save your energy and time for those people you love and care about.
Get creative with gift giving. This doesn't mean going on Pinterest and finding over-the-top crafts to make. If you dread going to the mall or have a mile-long gift list that's giving you the sweats, try emphasizing people over "stuff." Think about the people on your list and what they might like to do instead of accumulating objects. Give tickets to a sporting event or arts performance, a gift certificate to a favorite restaurant, or a membership to a zoo or museum. Or sign them up for a fun gift-of-the-month club, for anything from flowers or fruit, cheese or beer, snacks or makeup. And hey, this can be a time saver: you can buy the same thing for more than one person on your list!
Rethink your entertaining style. Are you always the hostess with the mostest? Do you dread all of the cooking, cleaning, planning and reorganizing? Make it casual! Host a cookie exchange for your friends or have family over for a potluck meal, where everyone brings a holiday favorite and you provide the wine and dessert. Or plan a meaningful get-together, by volunteering as a group with an organization that needs help—you can work in a soup kitchen, deliver meals, wrap gifts or shop for needy children.
Make new memories. Instead of feeling like you have to do certain things a certain way, toss tradition out the window—or modify it—to try new things and make new memories. Maybe you'll discover a new tradition; maybe you'll realize that the old ways work. Or maybe you'll realize that one or two traditions are enough.
Whatever you do, the team here at Complete Payroll Processing hopes that you finish the year on a positive note, ready to take on 2015! And if there is anything that we can do to decrease your stress in 2015, please let us know how we can help!