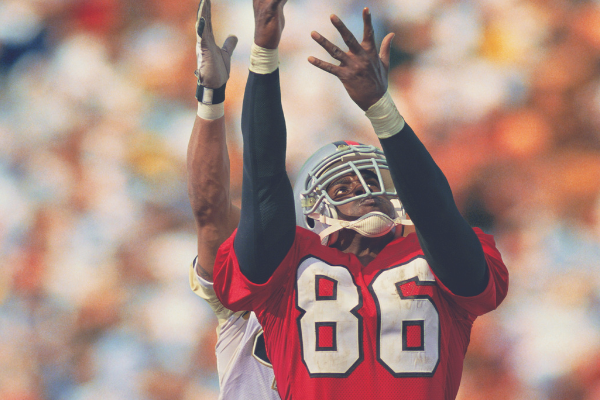 Way back in 1926, "The Galloping Ghost" Red Grange signed a contract with the Chicago Bears that earned him $100,000 for the season, which lasted for 67 days. This was in a time when most players were given $100 per game, and many credit Grange with legitimizing the sport of football. Grange paved the way for the NFL to become a major force the American sports industry.
These days, people often talk about the huge salaries that are earned by NFL superstars. Those conversations reflect a pretty basic truth: there are a lot of super rich NFL stars! However, Grange shows us that this isn't a new conversation at all. Football's most competitive and beloved players have been making a ton of money for nearly a century.
Need some examples? Just look at the top 10 salaries for NFL players in the 2019 season:

10. Alex Smith, Redskins: $23.5 million
9: Khalil Mack, Bears: $23.5 million
8: Andrew Luck, Colts: $24.594 million
7. Drew Brees, Saints: $25 million
6. Derek Carr, Raiders: $25 million
5. Matthew Stafford, Lions: $27 million
4. Jimmy Garoppolo, 49ers: $27.5 million
3. Kirk Cousins, Vikings: $28 million
2. Matt Ryan, Falcons: $30 million
1. Aaron Rodgers, Packers: $33.5 million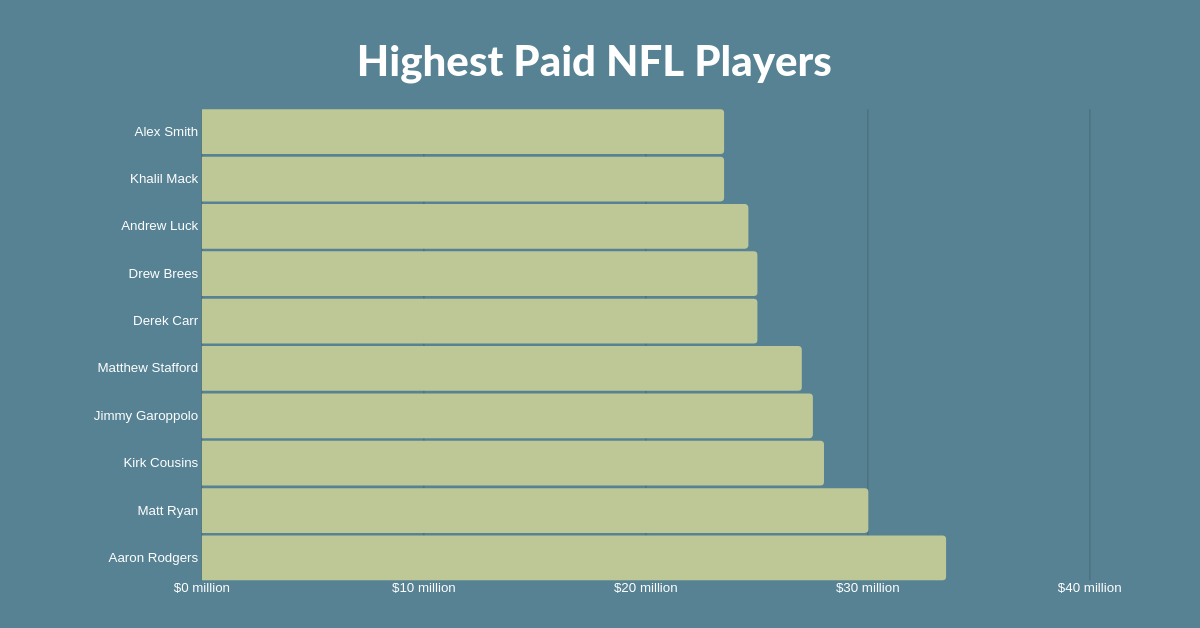 And those are just the salaries! Players also get signing bonuses, roster bonuses, workout bonuses, and option bonuses. When you add in endorsement deals, the total take home of the NFL's biggest stars is pretty impressive. A lot of kids dream of making it big in the NFL, and the salary is part of that dream. High school and college athletes alike aspire to be signed to a pro team so that they can play professional and get paid for it.
What About Everybody Else?
But what about the average NFL player's pay and bonuses? How does the salary of a professional football player who isn't a huge star compare to these big names?
The NFL's Collective Bargaining Agreement that went into effect in 2012 will remain the governing document for team salaries until 2020. It sets a one-year contract for a rookie active roster player at $480,000.
According to CNBC, every year that they are on the roster and active, players are guaranteed an increase in their pay. Kerri Anne Renzulli writes, "A player with three years' experience would command a salary equal to at least $705,000, while players with seven to nine years on the field must be paid at least $915,000. That's great news for those lucky enough to last that long in the NFL, but many won't ring in a seventh year on the job. The average career length is less than three years, meaning most players never advance beyond the lower rungs of that payment ladder."
In 2018, the LA Times ran a series debunking NFL myths. One of those myths was that everyone in the NFL is "rich." They argued that even though the "average" salary for NFL players is $2.7 million, those major player salaries that are in the $20-30 million range inflate the average to misrepresent what ordinary pro players make.
LA Times journalist Gary Klein writes, "The NFL salary cap this season was $167 million, divided among 53 players. If the salaries were divided evenly, that would be $3.2 million per player. The Patriots roster features three players with salary-cap numbers of $10.9 million or more. Three players earned between $6 million and $8.5 million, eight made $3 million to $5 million and 17 earned between $1 million and $3 million. Twenty-one were paid less than $1 million."
Are the Risks the Same for All Players?
Being an NFL superstar means you have fame, long-term money-making potential, and celebrity status. However, some argue that the "average" player may be taking on a lot more risks than their more famous teammates, and for much less payoff.
Most NFL players only stay in the league for an average of 3 years. That means that young players start their careers at 22 or 23 years old and are likely retired well before they are 30. That $480,000 starting salary sounds pretty great, but when you only have about three years of earning potential in your career, the cost/benefit analysis changes pretty significantly!
Many retired NFL players have discussed the difficulty of finding work, supporting their families, and funding their medical expenses in the years after their short careers end. Although there are definitely a lot of retired players who find successful careers, there is an undeniable financial strain on retired players. In fact, in 2009, there was a report that 78% of retired players declared bankruptcy or gone through significant financial stress.
Every day that they practice or play, NFL players risk concussions and Traumatic Brain Injuries, as well as other injuries. Zach Binney from Football Outsiders conducted an analysis of NFL data, and he recently looked into some of the injury risks for players. He argues, "NFL injuries are complicated and difficult to predict. We've shown that a player's team, coach, and even the stadium he's playing in combine with his own injury proneness and a healthy dose of luck to determine whether he makes it through the week."
He also questions the statistics that have been touted by the NFL that quarterbacks are experiencing fewer significant injuries than in previous years and argues that players are still being injured at similar rates, even if the numbers are calculated differently from year to year.
What does it all mean?
Ultimately, it is hard to determine who the "average" NFL player is. The only people who can really say whether or not the pay justifies the risks are the ones making that decision. Clearly, there is no shortage of athletes working hard to get drafted into the NFL, and plenty of people who would love the chance to play football for nearly a half million dollars a year.
Still, when we hear people talk about all the money that is made by NFL players, it is probably a good idea to remember that there are a lot of players who aren't becoming millionaires and that there are a lot of risks to playing one of America's most beloved sports.