How to Register a Business in New York State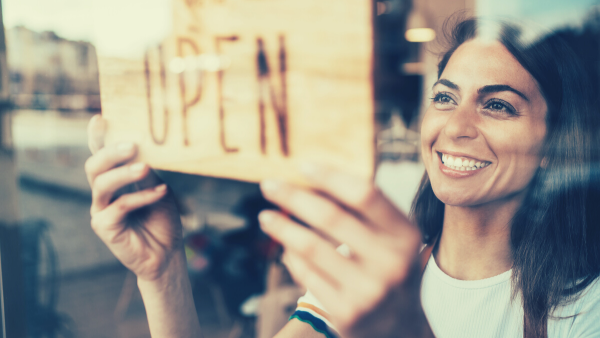 Is starting a business in New York your American dream? That's terrific, but get ready to jump through some hoops. New York businesses must be registered. You'll need forms, certificates, and licenses from multiple regulatory agencies.
Complete Payroll is here to make your life easier. Below is a step-by-step guide, plus links to important forms you'll need to register a new business in New York. Also, if you're ready to set up payroll to get your employees paid, click here.
First, Name it and Claim it
You can't register a business until it has a name. Everything in local and state records will be filed under your business name, whether it's a partnership, sole proprietorship, or corporation. The state of New York maintains a name reservation page that allows you to check who else is already using names you might be brainstorming.
Check to make sure your company name is also clear of general U.S. copyright and ownership infringement before registering it. Keep in mind that you'll need an available web address that matches your New York name.
If you've decided on a name but need a little more time before moving on to the next steps, New York has you covered. Submit a Certificate of Reservation to hold your name for 60 days while you do everything else. There's a $20 fee.
Settle on a Structure
To register your business, you'll need to know its structure for legal and licensing reasons. Choose a type of entity and structure using the state's business wizard, which guides you through the selection process by asking questions.
It's important to note that New York regulates the names of businesses by type. For example, a limited liability company (LLC) isn't allowed to have words like "school," "trust," or "corporation" - and dozens of others - in its name. See a complete list of restricted words here.
Start Local
After settling your name and type of entity, it's time to register your business with local and state agencies. Start at your county clerk's office, where local officials can answer questions you may have.
Apply for a Business Certificate, also called a Certificate of Assumed Name. Corporations must also apply for a Certificate of Assumed Name for any name other than their primary name.
These certificates can be found here, but they usually must be filed in person with the county clerk. Some counties request multiple copies of the forms or require that they be notarized. There is a basic filing fee of $100 to $120, depending on the county, plus additional fees for corporations.
Register with the State
And now, on to the state forms. Depending on your company structure, you'll need one of the three sets of forms below. LPs and LLCs require extra forms due to New York's legal requirement to publicize their formation.
These forms go to the Albany office of the Department of State. Submit them online or mail them using this postal address:
NYS Department of State
Division of Corporations, State Records and Uniform Commercial Code
One Commercial Plaza
99 Washington Avenue
Albany, NY 12231
State Sales Tax and Vendor Registration
If you're going to be selling anything in the state of New York, you'll need a Certificate of Authority for a Sales Tax Number from the state tax department, also called Form DTF-17. You can't legally make any sales until you receive authority, and the state may fine you or restrict your operation if you fail to apply for it.
By state law, you must file the sales tax number paperwork at least 20 days and no more than 90 days before your business begins operation. Submit it online here or to this postal address:
New York State Tax Department
Sales Tax Registration Unit
W A Harriman Campus
Albany, NY 12227
Apply for Licenses and Permits
But wait, there's more! Depending on your business type, you'll also need specific licenses and permits. For example, if you want to sell clothes, you'll need an Apparel Industry Certificate of Registration. Acupuncturists need Acupuncture Licenses. Hairdressers need Barbershop Permits.
There are hundreds of these requirements, but luckily New York makes it easy to figure out which ones apply to your company. Use the New York Business License and Permit Index to search for your business type and secure all the additional forms needed for your new venture.
Congratulations on launching a New York business!
Complete Payroll is one of New York's best HR and payroll management companies. Ensure your business runs smoothly by requesting a free quote now.
Get The Newsletter
Bi-weekly on Thursdays. We compile HR best practices, labor law updates & other content to help you pay and manage your workforce more effectively.