Manage Overtime: The Benefits of Employee Scheduling Software
Written by Joe Peluso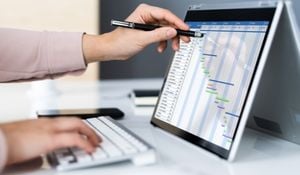 It's a common misconception that "overtime" is something to be avoided at all costs. However, overtime is helpful and necessary if used correctly. Overtime can help:
Cover staffing for companies with 24/7 needs.
Employers respond to short-term changes in staffing.
Attract employees who are looking to make extra wages.
With the passage of the Fair Labor Standards Act over 90 years ago, hourly employees who work over the legal 40 hours a week are entitled to overtime pay, or time and a half. However, keeping track of overtime by hand can be an arduous task filled with the potential for human error, the most common of which is scheduling employees for unnecessary overtime.
That's why if you're looking to keep your overtime budget in check by reducing your unnecessary overtime expenses, the best tool at your disposal to help is employee scheduling software.
Below are just some of the ways scheduling software can help you make sure your money is being used effectively.
1. Get an Accurate Big Picture
Do certain shifts rack up a majority of the overtime hours? Do you notice you're spending more on overtime at your busiest times of the year? Scheduling software can help you quickly and easily collect data that can help you answer these questions about how and when your overtime budget is being spent. This big picture helps you anticipate when it might be more cost effective to hire part time or seasonal employees or what shift needs more coverage than others. These informed decisions can help you spend your overtime budget wisely with just a few simple reports from your scheduling software.
2. Know Which Employees Are More Cost-Effective
The more employees you have, the more difficult it is to keep track of their hourly rate. That might leave employers taking guesses at who should pick up overtime and how much so they don't break the budget. Scheduling software takes the guesswork out completely. Software can help you easily track which employees will be able to work overtime while keeping you within your budget.
3. Communicate Policies More Efficiently
One of the most important ways to reduce unnecessary overtime is by communicating your company's overtime policies clearly with all employees. Scheduling software can help ensure every employee is on the same page and gets a unified message when it comes to overtime. Scheduling software allows employees to reference the policy any time they need it from any device without having to track down the HR binder to look it up.
4. Encourage Cross Training to Staff Shifts Effectively
Scheduling software can quickly show you opportunities in your company for cross training your employees. Schedules are dictated by which employees can work depending on their knowledge and skill level. However, training employees in a variety of positions can help you cover holes in scheduling that you see quickly with your scheduling software. This allows you to be flexible with where employees work depending on need while not being locked in to paying overtime based on knowledge and training.
In short, employee scheduling software, like that offered by Complete Payroll, can help you keep your sanity when it comes to ever-changing schedules and the challenge of making sure your overtime budget isn't busted. Our team can help you fix all of your time and attendance issues with powerful but easy-to-use tools built into our software. Contact our team today to discuss your needs and how we can help!
Get The Newsletter
Bi-weekly on Thursdays. We compile HR best practices, labor law updates & other content to help you pay and manage your workforce more effectively.