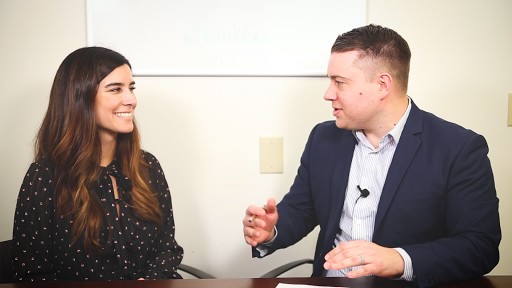 In this episode of PeopleWork, we had the pleasure of sitting down with Melissa Wilson from EZAccessMD to discuss Telemedicine as an employee benefit. Enjoy!
Watch the Video
Read the Transcript:
CJ Maurer:
Hey everybody. I'm CJ here with Complete Payroll, and back for another episode of People Work. This is our series where we interview a variety of professionals spanning the human capital management industry. Basically, we're interested in talking with people whose work is managing a workforce and taking care of people. And today I'm excited to be joined by Melissa Wilson of EZaccessMD. These guys are a very unique telehealth mobile care company based in Rochester, New York. Also a client of ours, which is how we originally got connected. But they have a lot of interesting stuff to talk about. So first of all, Melissa, thanks for joining us today.
Melissa Wilson
Thanks for having me. Really excited to be here.
CJ Maurer:
On this lovely winter day. That's what you get in January in Western New York.
Melissa Wilson
Yes. You can expect if you travel to Buffalo, there's going to be snow involved.
CJ Maurer:
That's right. That's right. So okay, so there's probably a lot of things that we can talk about, and obviously some questions that I have prepared to ask you that I think a lot of the business owners and HR managers who follow our content would be interested in. Before we do that, you can give a much better introduction of EZaccessMD than I could. So why don't you tell me and tell everyone else what you guys do.
Melissa Wilson
Sure. So we see ourselves as industry disruptors. So our mission is to bring no cost basic healthcare to more people. The way we do that is by combining traditional telemedicine and mobile diagnostic teams and delivering care on a employer paid benefit basis to employees and their families. So we will come to your home or to your office and do roughly 85% of what can be done in an urgent care setting, all at no cost.
CJ Maurer:
Okay. So I'm actually curious about this because in a past life, so I did some work with a nursing home, and this would have been maybe about six years ago. Now at this time, what this nursing home was doing was trying to bring telemedicine to each of its facilities. Because obviously, they have some healthcare professionals on staff, but a lot of the patients would need to make regular... They'd be shuttled to doctor's offices, or some cases hospitals. So they were trying to make it easier. I didn't really understand the details in terms of how it essentially improves care, I just understood from what they were doing that it's basically a way to make it easier for people to access healthcare. Is that true? And if so, what are the benefits of telemedicine from the patient perspective? I'm curious about.
Melissa Wilson
Sure. Yeah. Telemedicine has certainly been a trend for many, many years now. And every year, we're on the verge where it's the next big thing, this is the year for telemedicine. But in reality, people have slow to adapt to it. It hasn't been widely accepted by patients or facilities. So the utilization rates, the usage rates, are very low of traditional telemedicine. We're talking under 10%. So where it's a huge help and it will alleviate most of the burdens of accessing healthcare today, it's still not getting the type of traction that it's going to bring the ROI. And so it's not been important. If a benefit's not being used, is it important? Does it actually matter?
CJ Maurer:
That's a good point. So I guess going to the doctor is one of the things as a society, we're still willing to leave our house for. Now we don't leave our house to go to the store or to get our groceries or get food because we order that and it comes to us. But I guess it makes sense that maybe this is a trend that hasn't really caught on yet. So from the perspective of a business, obviously, whether it be telemedicine or telehealth or mobile care, this is something that, we're in a situation where talent is hard to come by. And as such, business owners and HR managers are trying to do as much as they can to attract and retain talent. So what have you seen on your side that business owners and HR managers are doing to create a more attractive employee benefit package to help their company stand out?
Melissa Wilson
Well, they have to get more creative. We have customers that have upwards of 50, 60 employee benefits. Today, if you're not offering a rich package of benefits to your employees, you're not attracting top talent. And you have to really listen to what the employees actually want. So often, the person making decisions about benefits or the people at the top making decisions about what benefits to add on, are not your typical employee demographic. So you've got perhaps different generations, and maybe the people that are looking at the benefit packages are not aligned with the entire employee population. So you've got millennials who might be more of a user of a telemedicine benefit, maybe that wants it. But then you've got baby boomers making decisions based on their lifestyle and the way that they access healthcare.
CJ Maurer:
So how do you determine what the rest of your employees might want in terms of employee benefits?
Melissa Wilson
Well, I think that sets you apart as an organization. So if you understand your people and if you know what they want and if you're thinking on their behalf, then you're typically a company that has that type of culture. And that's typically our average client, is a company that really understands their people, wants to do what's right for them. Making investments, yes, that are going to help the bottom line, but also thinking about what is the lifestyle of my average employee? What are they going to use? What is going to impact them the most and their family? Not only keeping them at work because they're not leaving to go to appointments, but also keeping them more productive while at work. And generally improving the time that they have outside of work by not having them have to go and do that outside of their time at work when they could be spending time with family, and they're now needing to shuffle around to appointments because that's their only option.
CJ Maurer:
Sure. You mentioned that utilization of telemedicine in general is still pretty low. It's still 10%, despite the fact that it always seems like it's on the verge of taking off. So how does utilization coincide with ROI when it comes to a telemedicine benefit to employees?
Melissa Wilson
Great question. So I touched on, if nobody's actually using it, does it really matter? So does it matter the cost? Traditional telemedicine can range from, we've seen 60 cents per employee per month to $10 per employee per month. But if nobody's using it, then you have to see what's that real cost to your business. Our utilization rates are much higher, 85% on average across our clients, and many of them are upwards of 100% utilization. That's when you start to see an ROI, because that's when you can directly link the number of claims that aren't happening at the primary care office, the urgent care office, the emergency room. Because they're being diverted because we're coming to the employee, we're coming to the office, we're coming to their home, we're treating their families. They're not having those visits, therefore, those claims aren't happening.
CJ Maurer:
So you may have already answered that, but I just want to be sure because I'm not 100% positive. Why is it that your utilization rates are as high as they are?
Melissa Wilson
Well, I think there's a number of factors. One of the things that we are really good at is employee education. I think that we have the benefit of having local partners in each market that can go out and really generate the buzz, show the technology off, and give people that face to face interaction that they're desperate for when it comes to telemedicine. That missing link, if you will. And we basically evaluated all of the different barriers. Why aren't people using traditional telemedicine? If it's of value, why is it not being used? And then we one by one removed all those barriers.
CJ Maurer:
Also, you come to the office and you come to somebody's home. I'm not experienced enough in the medical or healthcare industry to know what drives participation rates or outcomes or anything like that. But I know enough to know that your own healthcare can be a very personal thing, even if it's just a routine doctor's visit. And I would venture to guess that one of the reasons why telemedicine participation is lower compared to what you guys are doing is because people like... When it's something that's so personal, then they probably like to be in the same room as the provider that's taking care of them. And I got to think that it's probably not just like, yes, you guys have... I'm sure you guys have good teams to help build awareness and connect people, but it seems like a pretty unique product. I've never heard of that.
Melissa Wilson
Right. There's nothing else like it. And it truly is, as you say, there's this big impact. If you're in an organization that has easy access, someone that you know has this experience and they come back to the office and they talk about it, and it spreads like wildfire. It's so rare that healthcare is convenient or accessible or free.
CJ Maurer:
Yeah, affordable.
Melissa Wilson
Yeah. You pair that with somebody coming into your home and checking for an ear infection on your child in your family room, or doing a chest x-ray on you or a family member, that's a big deal. People come back and talk about it. And it helps, when your colleagues have the experience and it's positive, to spread that throughout the office.
CJ Maurer:
So historically speaking, a lot of HR departments are perceived as playing a role that's a little bit more reactionary. So they're there. Okay, now we're hiring a new employee, onboard them, do the paperwork. Okay, now there's a problem. Go see HR. But more and more in our industry, with the emergence of a lot of new technology, when you also consider the talent gap that exists, it's really a lot of companies are competing for a small amount of available talent, it's harder to attract people, it's harder to retain. Just in general, we're seeing, especially over the last handful of years, the HR role becoming a lot more proactive in the organization. Not to say that it ever wasn't, but certainly more than it has been before. What do you think HR managers can do? Maybe even especially as it relates to putting together an employee benefits package to be more proactive and effective within their organizations.
Melissa Wilson
I think it goes back to really understanding who you're serving. At the end of the day, you want to have an open line of communication with your employees and with your teams that you're serving to be an effective HR role. And if you're listening to them, they're asking you for things like easy access or other things that are going to help improve their overall lifestyle. We've heard time and time again from HR departments that we've partnered with, it's so often that people come to us when there's something bad. A negative experience at work or personal, or they are getting bad news or someone's leaving or there was an incident, and they're just this triage center for bad news. And then they come to us and say, this is the first benefit that we've enrolled where we're actually getting unsolicited positive feedback from our employees. And it's just nice to shift the conversation from something negative to something positive. So I think it's understanding your people, giving them what they want, and then seeing that shift happen.
CJ Maurer:
That's really good. So clearly, here's a lot of benefits to the company. One, you're giving employees something that they need. And clearly, the HR leads might appreciate being a catalyst for more positive outcomes than being the receptacle for negative situations. So I think it's pretty clear to see the benefit it can provide employees. I think you mentioned before that there may be an additional benefit to the companies in terms of saving them money. How does enrolling a new benefit help save the company money?
Melissa Wilson
Well, when it comes to healthcare, everyone knows healthcare is expensive. So if an employee goes and has an emergency room visit, not only is that going to come out of the employee's pocket, but depending on the type of company you work for, that's also coming out of the employer's pocket as well. So if we can mitigate those claims, if we can stop someone from needing to make an unnecessary urgent care visit or emergency room visit or PCP visit, then that's money that they're not spending. So the employer, the way our benefit is structured is the employer is paying for it and the employees pay nothing. So no copay, no bill, no paperwork, no invoice. It's almost too good to be true. But when they do use it finally and they realize that she was right, no bill ever did come in the mail, then they're seeing the savings, and then they're more prone to start using it more and more and having their family use it as well.
Melissa Wilson
Just myself alone with two young kids, I've had this benefit, and not only myself, but my two children have used it numerous times. I know that it's avoided at least 10 visits to my pediatrician throughout the last year. I'd love to do the math on that, but I know it's significant.
CJ Maurer:
We were just talking before we started, I have two small children and we make quite a few trips to the pediatrician.
Melissa Wilson
And you usually already know what's wrong as a parent. I know this is an ear infection, I've dealt with this before, but in order to get the meds that you might need, you still need to go to the doctor. So now the tech comes to me at the doctor's discretion and does the lab testing or the medical imaging that is required, and I've got my meds called in and I didn't have to go anywhere and I didn't have to pay anything. So as a parent, it's been a lifesaver.
CJ Maurer:
Yeah, that's not bad. And an employee too, right?
Melissa Wilson
Right.
CJ Maurer:
All right. So I'm curious, can you speak tangentially about a certain partner or a business that you've enrolled? I'm not asking you to, of course, reveal the business, but that really exemplifies what EZaccessMD is meant to do at its best. That has really taken full advantage of the benefit and how that works at an organization. Because I understand everything that you're talking about and I can see why this would be beneficial, but maybe to a business out there that's thinking this actually sounds like a good benefit, can you make it real for them and to explain how it could really work?
Melissa Wilson
Sure. We've got so many happy customers that it's almost harder for me to pick which story to tell. But we have a client, a human service non-profit. They have offices in Rochester, Buffalo, Syracuse, Albany, all the way to the Pennsylvania border they have employees. And they've got a very rich benefit package. So it was interesting to see how employees would respond to yet another exciting benefit being added because they already seemed to have so many. This was rolled out, and the company has roughly 400 employees. It was rolled out, and within the first eight months, they already had 300 physician encounters. It was nuts. It just spread. And for a company that has so many other things being offered to their employees, they really just saw the value right away, and the employer and the employees were able to get an immediate benefit.
CJ Maurer:
That's awesome. What does that do in terms of employee culture? Everyone talks about that. We recently filled out an application, we've been nominated as one of the best employers in Western New York. When you go to those events or you fill out those applications, a lot of the things they're hitting on is they want to understand the culture. How does something like that impact a workplace culture?
Melissa Wilson
Massively. I think because we're still so new, we're in startup mode, that we haven't really been aggressively putting our name out there. So the companies that have come to us at the very early stages are those companies. Those companies that are always looking for the newest, most innovative, disruptive thing to offer their employees because they want to invest in them, because that's the culture that's been set at those organizations. So naturally, those were our first brand ambassadors to become clients. And now those are the same clients that are spreading the word about us and telling other clients to use this benefit. It's amazing and they're great. We love our customers.
CJ Maurer:
That's awesome. That's how it works. So I think that I've asked you everything that I planned to ask you and everything that just came to mind during our conversation. I think this is really illuminating. I think this is something that probably is of interest, not just to employees who are realizing the benefit, but employers as well, especially those employers and HR managers that are really trying to compete in this very tight labor market to attract talent. So Melissa, I really appreciate having you on. For anybody who's watching this, a full length video or any one of the clips, we're going to make sure that we provide Melissa's information below on the same page, as well as a link to the websites so you guys can get in touch and learn a little bit more. But thank you so much.
Melissa Wilson
Thanks for having me.
Contact Melissa Wilson
If you have any questions about EZ Access MD or telemedicine in general, contact Melissa Wilson at mwilson@ezaccessmd.com.