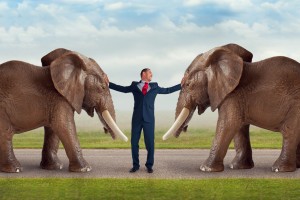 In any office setting that employs more than one person, there is occasionally going to be conflict. Not everyone can agree on everything all the time, and that is fine. And just because two people disagree doesn't mean their disagreement is problematic; differences of opinion are to be expected. However, ongoing tension, especially if it is left unaddressed and allowed to fester, can harm your organization. So how can you deal with conflict in your workplace and keep it from becoming a problem?
Address It Head-On. When it comes to your attention that two or more people in the office are involved in ongoing conflict, you need to go to the parties involved (individually at first) and emphasize the need for them to address it. Share tips for handling negative feelings and thoughts in an appropriate manner.
Get All Sides of the Story. Ask each involved party what the tension is all about. Try to pin down specific facts or events that led up to or worsened the situation. After you've talked to each person, come up with a list of possible solutions. (If the conflict stems from an employee being racist, sexist or otherwise inappropriate, disciplinary action will be your first solution).
Encourage Compromise. Share your list of solutions, whether in a group meeting or further individual meetings. Remind your employees that their conflict is affecting the entire business, and it needs to be addressed so the company can get back to focusing on its goals. For the sake of working together, each aggrieved party must be willing to give a little.
Don't Try to Solve The Problem Yourself. Try turning it around by asking the involved parties what they would like you to do about the problem, or how they would solve it. They may realize that there is no easy solution and see the need to compromise.
Check In Frequently. Ask the employees who are involved with an ongoing conflict if it has gotten any better. If the conflict is ongoing, you may have to take more serious action against the employees.
Basically, the trick to defusing office conflict is to treat it like problem-solving and get all involved parties to focus on what can be done to resolve the problem. Have you ever had to deal with office conflicts that threatened your business? How did you settle the issue?