Scheduling Best Practices for Short-Staffed Nursing Homes
Written by Joe Peluso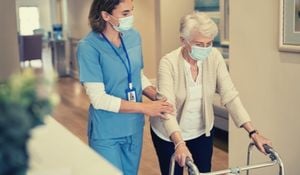 Covid-19 has had an historic and almost inconceivable impact on the medical sector, making staff management more complicated and difficult than ever before.
Nursing homes are some of the hardest hit by this pandemic, with some of the highest rates of infection for both staff and residents.
Between illness, quarantine, and other factors like lack of access to daycare, nursing facilities are struggling to maintain the staff necessary to provide direct and non-direct medical care to residents.
It is in this environment that creative solutions are crucial in addressing the nursing home staff management crisis.
But where do you start?
Assess Current Resident Population and Staffing Model
Conduct a Thorough Census:
Determine current occupancy and resident locations within the facility. With this data, you're better able to address whether your current staffing strategy is designed to maximize efficiencies.
Offer Flexible Schedules:
In these unparalleled times, employers have had to reframe company workflows in the context of employees who need— even demand – flexible schedules.
With Covid-19 infections surging, your staff may be struggling with challenges like virtual school requirements, limited access to transportation, and unmet childcare needs.
If you haven't already, it's time to review your HR policies and determine whether things like flexible scheduling, self-scheduling, and shift hour start time rules are in alignment with this new normal.
Classify Essential and Non-Essential Tasks:
Nursing home managers should conduct a review of essential and non-essential tasks, taking into consideration nursing processes, care schedules, and resident acuity.
In a crisis or triage situation, it's crucial that your staff are made aware of this differentiation so they can take appropriate action.
Leverage
Current

Nursing Home Staff

Your current staff is likely contending with things like compassion fatigue, moral distress, and burnout.

To help mitigate and prevent these negative outcomes, it's incumbent on nursing home managers to review all treatment plans, medications, and processes to determine which, if any, can be discontinued for the time being.
Non-Essential Medication Management
For example, managers can work with physicians and consulting pharmacists to determine whether any of the resident's non-essential medications can be temporarily discontinued during the pandemic, thereby reducing staff time requirements and providing additional workflow flexibility.
Utilizing Non-Nursing Staff
In the face of unprecedented staffing challenges, the most effective nursing home management strategies include identifying tasks that can be performed by non-nursing staff and scheduling them appropriately.
For example, physical therapists and physical therapy assistants might help with things like transfers and toileting. They might also conduct accident investigations and lead teams in fall/injury prevention, relieving some of the pressure on staff members.
Take Advantage of External Staffing Resources
There are some excellent external staffing resources nursing home managers may not be aware of. Here are just a few:
In the face of staffing shortages, some provider associations can offer support and assistance. It's worth investigating.
Your state's

Department of Public Health

may be authorized to deploy crisis staffing including National Guard and strike teams.
Identify and recruit candidates who applied to work in

vaccination clinics

but were turned away due to a lack of open positions.
Partner with professionals in the home health, hospice, or acute care provider industries. These organizations can offer a rich resource in terms of alleviating your facility's staffing crisis.
Licensed medication assistants and technicians may help support licensed nurses in states that permit them. (Check state requirements.)
Your

Chamber of Commerce

may offer a wealth of resources in that they can often identify displaced, furloughed, or under-employed individuals who may be able to assist in a staffing crisis.
Members of the under-utilized

mature

workforce may also be a huge help in terms of filling non-certified support positions.
Are there members of the workforce who can fill support positions and take on non-certified roles?
Maximize Benefits of Technology
Scheduling coordination is no easy feat for most nursing home managers, and this is especially so during a worldwide pandemic and worker shortage.
Taking advantage of resources like timekeeping and scheduling software solutions can lift some of that burden.
If you're drowning in the sea of challenges that come with a staffing shortage, we'd love a chance to share our best practices and software solutions for resolving and avoiding scheduling issues in your organization.
Get The Newsletter
Bi-weekly on Thursdays. We compile HR best practices, labor law updates & other content to help you pay and manage your workforce more effectively.