On January 1, 2014, 13 states increased minimum wage. State minimum wages are higher than the federal requirement of $7.25 an hour in 21 states. This is an increase from 18 over the past two years.
The following is a quick look at the states that have recently raised their minimum wage: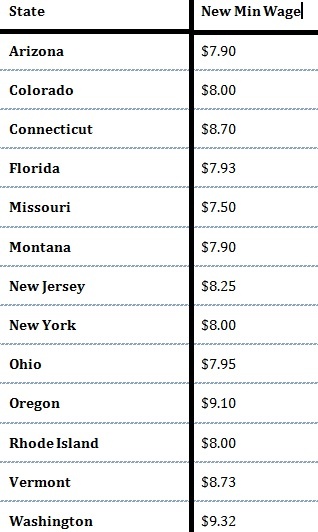 What will raising minimum wage mean for your business?
Many economists predict that raising minimum wage will result in raises for hourly workers across the board in what's known as the "ripple" effect. In other words, employers may raise pay for most workers in order to preserve their wage structures, and retain quality employees.
"The Economic Policy Institute estimates about 4.6 million workers will see their wages increased, 2.6 million of whom are directly affected as the new minimum wage exceeds their current hourly pay. The other 2 million already make slightly more than the new minimum wage but will benefit from the ripple effect." (Money.CNN.com)
There is also pressure on Congress to raise the national minimum wage. President Obama and Congressional Democrats are trying to raise the federal minimum wage from $7.25 an hour to $10.10 by 2015.
Complete Payroll Processing is currently helping many of our clients deal with the increase in minimum wage and the impact on their payroll. If you need help, our payroll team is at your service. Simply give us a call. We'd be happy to help!
---
Sources:
http://www.usatoday.com/story/money/business/2013/12/29/states-raising-minimum-wage/4221773/
http://money.cnn.com/2014/01/14/smallbusiness/minimum-wage-hike/