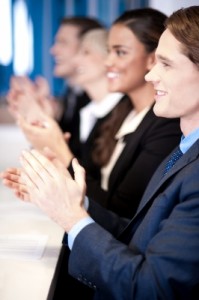 Believe it or not, it's already time to start thinking about your office holiday party. With fall on the horizon, the holiday season is just around the corner. The good news: Planning now means saving money. And whether you're on a tight or unlimited budget, here are three more ways you can throw a great get-together without overspending!
Be flexible with your date.
Two great reasons for scheduling your party for January: you'll make your employees' lives easier by giving them one less social obligations during the busy holiday season. And if you're planning an offsite party, rates will be cheaper after the holiday rush and before wedding season kicks in. More banquet rooms will be open and caterers will have lighter schedules. Plus, January can be a gloomy month, and the party will give your employees something to look forward to.
Consider various options.
If you're working with a small budget, consider forgoing a hosted bar or going with a buffet-style meal vs. a sit-down dinner. You can skip dinner altogether serve only hors d'oeuvres and drinks. You can also hold the party during working hours, at the office., and save money by not having to rent a room. You can even throw a partial potluck, where you provide dinner food and your employees each bring in a favorite dessert.
Consider alternatives.
Instead of throwing a traditional party, look into after-hours options at your local zoo or aquarium. Throw a bowling tournament. Many nontraditional venues offer great group discounts. Or hold a "party on the go" by hiring a chartered bus, serving appetizers and drinks, and taking your employees on a tour of your city's holiday light displays. Finally, you can skip the party altogether and give everyone a paid "shopping day." Put it to a vote, but many of your employees will appreciate an extra day to cross things off their holiday to-do list.
If you want to reward your employees with a fun, festive holiday celebration to express your appreciation for their yearlong efforts, you can be money-conscious without being a Scrooge! If you have any other ideas, please share them below! And if there is any way that CPP can take payroll or HR demands off your plate so you can focus on other priorties, please give us a call.