The money and salaries behind the Victoria's Secret Fashion Show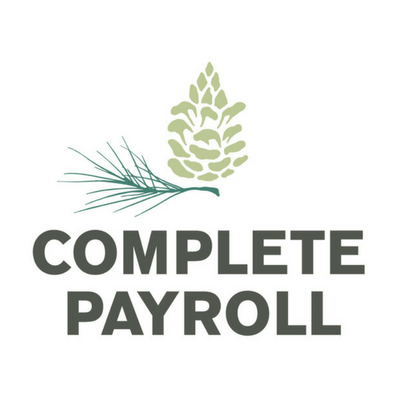 Written by Complete Payroll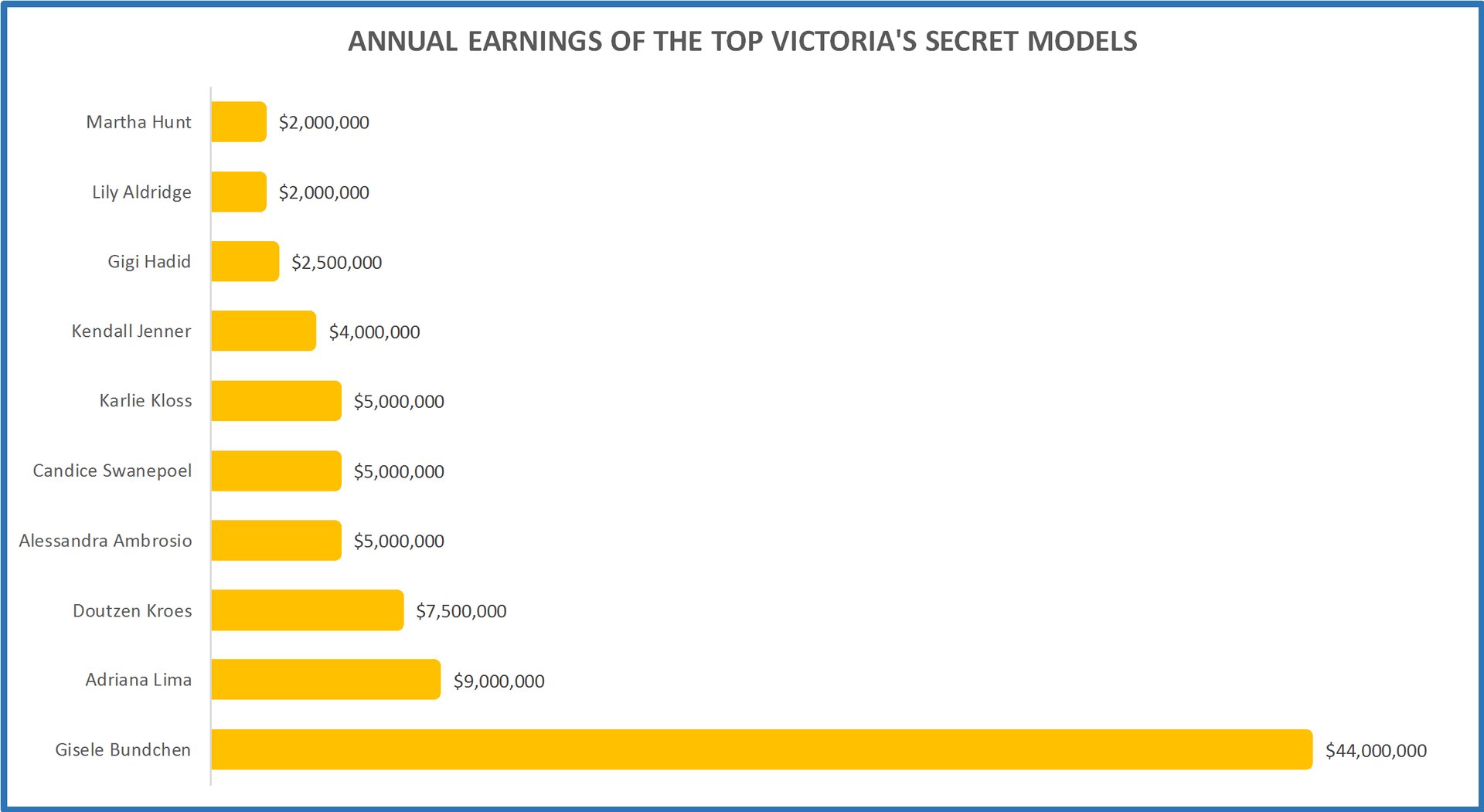 Millions of Americans tune in to watch the Victoria's Secret Fashion Show in December every year. The production of a fashion show of this magnitude includes a significant number of paychecks being cut. So, we decided to take a deeper look into the salary and pay data of everything "Victoria's Secret Fashion Show". From the highest paid supermodels, to the supporting staff/production team, we've uncovered it all!
Average model salary
Victoria's Secret Models are among the highest paid models in the world. These women make anywhere between $100,000-$1,000,000 a year, on average. However, the paychecks increase due to seniority and fame. Some of the most experienced models, like Gisele Bundchen and Adriana Lima, earn significantly more.
Highest paid (senior angels)
Let's dive into the payrolls of the top 10 highest paid Victoria's Secret Models, starting with those that receive the largest paychecks. It is important to remember that the salaries of these models are not solely from their appearance in the annual fashion show, but also from their outside fashion endorsement deals. Evidence proves that Victoria's Secret may be turning into a supermodel launch pad to fame. The idea is for models to build their brand, increase their fame, and fatten their paychecks through endorsements and other opportunities.
Gisele Bundchen is the highest paid Victoria's Secret model of all time. Bundchen earned an estimated $44 million in 2015 alone and has an outside deal with Under Armour. She has an estimated net worth of $386 million. Following Bundchen, we have Adriana Lima with a $9 million annual salary. Lima also has an endorsement deal with Maybelline. Doutzen Kroes is next with an annual salary of $7.5 million. Alessandra Ambrosio makes $5 million a year and has her own swim line called "Ale by Alessandra Ambrosio". Candice Swanepoel and Karlie Kloss, also make $5 million a year.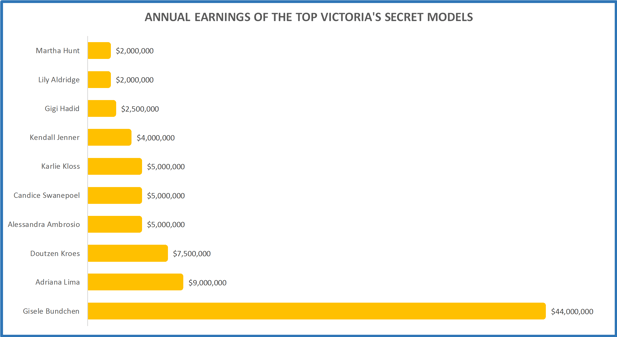 Lower paid (newcomer angels)
The Angels bringing in the least amount of money yearly are often newcomers. Kendall Jenner, the face of Calvin Klein and Vogue, brings in about $4 million a year from her modeling career. Gigi Hadid works externally from Victoria's Secret with CoverGirl and makes about $2.5 million annually. Lily Aldridge and Martha Hunt end off the list with $2 million each in annual earnings.
Show production
Victoria's Secret President and CEO Sharen Turney, has disclosed that the fashion show costs an estimate of $22 million up to date. The production of the show costs about $12 million, whereas the promotion for the show is about a $10 million expense. "It's not as much as you would think and it actually pays for itself five times over", Turney explains. Part of the shows recuperation costs even occur during the show. With the millions of viewers tuning in to the show, CBS pays Victoria's Secret over $1 million for the licensing of the show. Don't forget about the commercials! Reports say that some 30-second ads cost $200,000.
Total paychecks?
The Victoria's Secret Fashion show is a massive/complex production and hundreds of paychecks get cut for each contribution. The total $12 million production cost is divvied up multiple times and trickles down into the deserving pockets. First you have the costs for the venue, staff and equipment. Victoria's Secret also has to pay the world's best makeup artists, hair stylists, dressers, assistants, event coordinators, and security. You also have the costs of the performers that grace the stage each year alongside the Victoria's Secret models (this year's show includes Lady Gaga, Bruno Mars and The Weekend).
Other interesting (at least to us) facts...
The "Million Dollar Bras" seen on the runway are actually worth millions! The Victoria's Secret Fantasy Bras are set in 18 karat gold, 16,000 gemstones and have diamonds, rubies and sapphires. They are usually valued at $2,000,000 each.
In 2000, Gisele

Bundchen wore a bra

with a $15 million price tag, which earned a place in the Guinness World Records as the most expensive item of lingerie ever created.
Victoria's Secret spends about $220 million a year on catalogs sent to customers.
A majority of the Victoria's Secret payroll comes from their remarkably high seasonal sales during and following the fashion show. One-third of Victoria's Secret's highly-seasonal sales occur in the fourth quarter, which is the most profitable quarter. All in all, the marketing that comes from the show purposely overlaps with holiday sales.
So who exactly is Victoria after all? The Victoria's Secret brand is named after Queen Victoria, England's 19th century monarch.
Get The Newsletter
Bi-weekly on Thursdays. We compile HR best practices, labor law updates & other content to help you pay and manage your workforce more effectively.