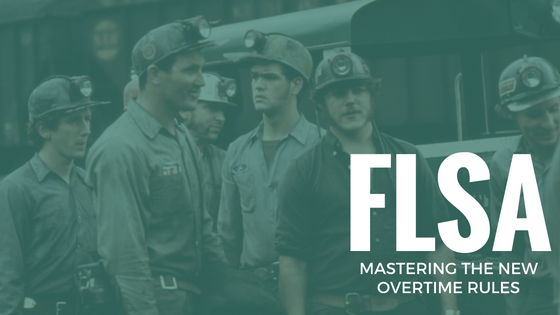 UPDATE: The federal overtime rules are now delayed until further notice. Read more here.
---
Effective December 1, 2016 millions of American workers who were previously considered exempt will become non-exempt, which means they're entitled to overtime pay. These new overtime rules are part of a recent change to the FLSA, or Fair Labor Standards Act.
We're pulling out all the stops. This article explains the new overtime rules in the simplest possible terms without skipping any of the critical points. It'll help you understand your options for getting compliant and we're even giving away a free PDF Guide as well as free phone consultations to get you squared away for December 1st and beyond.
A simple breakdown of the new overtime rules
Essentially, the recent FLSA changes represent an increase in the salary threshold that determined which workers are exempt from overtime pay, and which are not.
Previously, the law stated that any salaried worker earning less than $23,660 ($455 per week) per year MUST earn overtime pay. In other words they have to be paid "time and a half" for any hours worked over 40 in a given week. Any salaried workers earning more than $23,660 per year were considered exempt from the overtime pay requirement.
Now, that salary has increased. The new FLSA change raises the salary threshold to $47,476 ($913 per week) – which is slightly more than double what it was.

The punchline? Suddenly, millions more American workers are no longer considered "exempt" from the rule and now are eligible (and required) to receive overtime pay.
Here are a few other things you need to know...
The changes only affect white-collar workers. More on that in a minute.
The deadline to comply is December 1, 2016.
The salary threshold will be updated every 3 years, and many people expect it to exceed $51,000 by January 1, 2020.
Your options for worker classification (or reclassification)
Let's say you're an advertising agency. Sarah, your junior account planner is 2 years out of college and makes $39,000 per year. She's a hard worker and you know she puts in more than 40 hours per week. Since Sarah's salary is below the new threshold, she is affected by the new overtime rules.
To reclassify Sarah, you essentially have 3 options...
Hourly, non-exempt. Keep her pay the same, but calculate an hourly rate and reclassify her as hourly, then make sure she gets paid time-and-a-half for any hours worked over 40 in a given week. In Sarah's case, her hourly rate would be $18.75 per hour and her overtime rate would be $28.125 per hour ($18.75 x 1.5).

Salaried, exempt. Give her a raise so their earnings exceed $913 per week and $47,476 per year. Now you pay her more in salary, but you don't have to worry about paying her overtime. Check out our sample cost analysis below. If Sarah is averaging 50 hours per week or more, this is likely the better option.

Salaried, non-exempt. Keep her on salary and keep her salary the same at $39,000. But you'll have to instruct her not to work more than 40 hours per week and enforce it with a proper

time and attendance system

. However, the DOL will still require you to calculate her overtime pay rate ($28.125 per hour in this instance) in the event she does exceed 40 hours worked in a given week.
This example can be applied to almost any employee in almost any business. You may not be an advertising agency or employ someone named Sarah, but if you employ any white-collar workers with salaries under the new threshold, this example applies to you.
Considering the white-collar exemption
It's possible, after all this, that even if your employee earns a salary above the $47,476 threshold, they'll still be required to collect overtime pay for any hours worked over 40 in a given week. That's because the salary threshold is only one of 3 tests an employee "pass" to be exempt from the new FLSA overtime requirements.

In order to be exempt from the overtime mandate, your employee must satisfy each of these critera...
First, they must be paid on a salary basis not subject to reduction based on the quality or quantity of their work.
Second, they must meet the minimum salary level, which of course is $47,476 per year (or $913 per week).
Third, they must pass the standard duties test, which is to suggest their primary job duty must involve the kind of work associated with exempt executive, administrative or professional employees.
Just like receiving a specific salary doesn't necessarily determine an exempt status under the FLSA, neither do job titles. Check out the standard duties test below...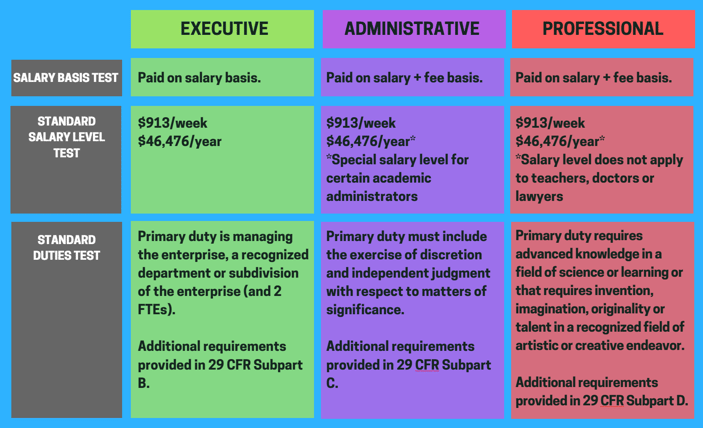 For more information about the white-collar exemption straight from the DOL, click here.
Taking action to get (and stay) compliant
It's great to fully understand the new overtime rules.
But what you really need is a path to swift action - to ensure you get (and stay) compliant while acting in the best interest of your business.
That starts with knowing how each worker should be classified. Unfortunately, it's not as simple as addressing the salary component exclusively. When you bring the standard duties test into the picture, there are several moving parts.
Plus, there are additional rules or exemptions for...
teachers
doctors
attorneys
commissioned salespeople
Wouldn't it be nice to have a simple flow chart that helps you understand how each employee should be classified, and what actions you may have to take to properly classify them, just like you see below?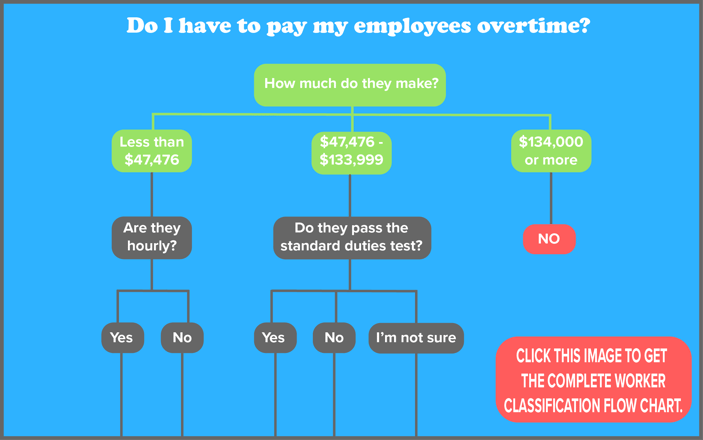 Fortunately for you, we've created a Decision Maker's Guide to the New Overtime Rules. It's a PDF document, and you can download it for free by clicking here.
In addition to a detailed explanation of the law and the complete flow chart, our Free Guide also takes you through the (surprisingly simple) 3 step process for complying with the new overtime rules...
Identify the employees that are affected by the changes. This also explains how to identify employees who might be affected by future changes to the FLSA, so you can plan ahead.
Calculate the total hours worked by each employee identified. For example, how do you calculate hours worked by employees who aren't currently hourly and therefore aren't used to tracking their time?
Evaluate your options and decide on the appropriate compensation plan for each employee. Similar to Sarah at the advertising agency, your best option depends on BOTH their salary and how many hours they typically work.
It may sound like a lot, but the Decision Maker's Guide to the New Overtime Rules will simplify everything for you and help you take the right action.
Or, you can skip that step and get in touch with someone from our team. We've been offering free phone consultations to our clients for months, and they've been such a hit we've decided to open them up to the general public. Just click the image below and request a time.
These are excellent, free, no-strings-attached offers. We strongly suggest you take us up on either (or both!) of them.
Good luck!