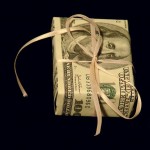 There's no delaying it any longer -- It's the most wonderful time of the year! Especially for your employees if they expect to receive a holiday bonus. And if you can afford to give them, bonuses are certainly a great way to show employee appreciation. So, what's the "right" way to go about it?
---
First, decide how much to pay out. Since a holiday bonus isn't tied to specific performance expectations, the amount can vary according to what you can afford.

What is an appropriate amount to give? You can give a fixed amount, usually anywhere from $100 to $5,000, or a percentage of each person's salary, or even an extra week's pay. Just be sure to be fair and equitable—holiday bonuses should be given to everybody and calculated on an unbiased basis.

And don't forget your contractors or temporary employees! Be sure that everyone working at your place of employment is recognized for their contributions, even if they aren't full-time employees.

Second, decide when and where you're going to give it. You can present checks or check cards at your holiday party, or you can include them in your employees' paychecks—which is more impersonal, especially if they participate in direct deposit.

You may want to consider giving your holiday bonuses before the December holidays, to give your employees a little cushion for holiday purchases.

Make sure your employees understand where the holiday bonus fits into your overall, yearlong pay scheme. It shouldn't be a substitute for a year-end bonus, but a token of holiday spirit. In other words, if you're already planning to pay a year-end bonus, a holiday bonus is a gift of appreciation, not part of your employees' annual pay and benefits package.
And if your company can't afford to give cash or gift bonuses this year, consider giving the gift of time -- paid time off, that is. Time off with family and friends is something that virtually everyone could use more of. Employees will appreciate an extra day off or two to relax during the year-end holidays after all their hard work during the work year.
At Complete Payroll, we consider our clients our biggest bonus. Have a wonderful holiday season!