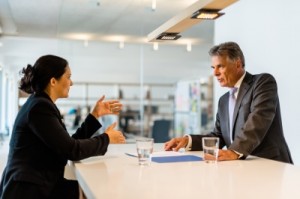 What's your greatest strength?
What's your greatest weakness?
We think you might agree, that those are probably two of the most overused interview questions to date.
So, what are today's top executives asking potential hires these days? We've done a little digging to uncover some of the most interesting interview questions asked by today's executives.
On a scale of one to 10, how weird are you?
- Tony Hsieh, CEO of Zappos
How would you describe yourself in one word?
- Dara Richardson-Heron, CEO of YWCA
Tell me about your failures.
- Jenny Ming, CEO of Charlotte Russe
What motivates you to get out of bed in the morning?
- Brad Jefferson, chief executive of Animoto
If we're sitting here a year from now celebrating what a great year it's been for you in this role, what did we achieve together?
- Randy Garutti, Shake Shack CEO
What's your superpower, or what's your spirit animal?
- Ryan Holmes, HootSuite CEO
What do you think was missing in your last job, and based off what you've seen over the last few interviews, why do you think you'll find it here?
- Chau Nguyen, Campus Special
What do you like to do for fun?
- Shane Robison, Fusion-io
Most CEO's report that the goal of questions such as these aren't to make your candidates squirm. Instead they are used to get a better sense if the person is the right fit for the job. Such questions help to promote discussion and creativity.
Now, it's your turn!
What is your favorite interview question? Please share your thoughts by taking this quick survey and we will publish all of the comments in our blog in July.
---
We hope you this article helps you with your next interview. And if you need any help with payroll as you bring more people onto your staff, please give us a call. Our dedicated team of professionals at CPP can help ease the transition of new hires.
---
Source used to write this article:
http://www.businessinsider.com/ceo-interview-questions-2013-12?op=1#ixzz34Rqsj0S6
http://www.businessinsider.com/3-questions-ceo-always-asks-candidates-2014-5#ixzz34RsHw1oY
http://www.inc.com/jeff-haden/14-revealing-interview-questions.html
http://freedigitalphotos.net